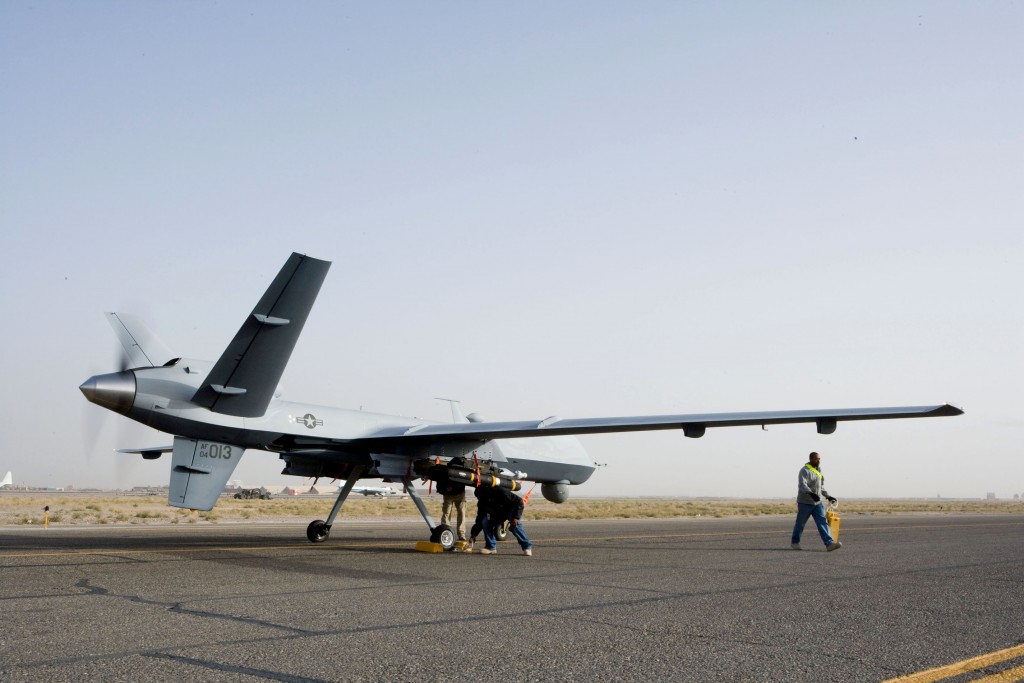 If you would like to receive the Weekly Roundup in your inbox, please subscribe at the bottom of the page.
At the Center for the Study of the Drone
The proliferation of drone technology has been accompanied by a vibrant movement of artists who make about about drones, or with them. In our newest Multimedia Portal, we explore drone art's many forms with a series of lectures and interviews by and with artists and curators at the forefront of the movement. For more Multimedia Portals, click here.
President Obama's budget for 2016 includes, among other things, the Pentagon's spending plans for the year. These include significant investments in drones and drone research. We pored over the budget to find drone spending items (so that you don't have to). Here's what you need to know.
News
A U.S. drone strike in Somalia reportedly killed Yusef Dheeq, a senior leader of al-Shabab. According to the Washington Post Dheeq, who was responsible for the group's external operations, was killed along with several other Shabab members when a missile struck their vehicle.
The U.S. Department of Defense will sell four General Atomics MQ-9 Reaper drones to the Netherlands for $339 million. The sale will includes four ground stations, as well as sensor packages and communication systems. The Netherlands will join European NATO partners Britain, France, and Italy in flying the Reaper, which has both surveillance and strike capabilities. (Defense Security Cooperation Agency)
A bill in the U.S. Senate proposes lifting some of the Federal Aviation Administration's restrictions on commercial drone research. The bill, which was proposed by Senators Ron Wyden (D-Ore.) and Lisa Murkowski (R-Alaska), would require the FAA to develop rules for beyond line-of-sight drone flights, thereby permitting the operation of drones within line-of-sight distances. (KTVZ)
Eight companies were granted exemptions by the FAA to operate drones commercially. The recipients included companies that fly drones for television and film production and one that uses drones to inspect flare stacks for the oil industry. (Fox News)
The FAA is in the process of deciding whether Shawn Usman should face charges for crashing a drone on a lawn at the White House . Mr. Usman, who has worked at the National Geospatial-Intelligence Agency, could face a penalty of up to $1,000 for flying his DJI Phantom within Washington D.C. airspace. (New York Times)
Meanwhile, DJI, the Chinese manufacturer of popular hobbyist drones (including Mr. Usman's), is halting a firmware update for its Phantom quadcopters that would have erected geofences around some of the nation's no-fly zones. In a statement on its website, DJI said there were "a small number of reported issues" with the update. (TechCruch)
A Reuters/Ipsos poll found that American citizens are far more apprehensive of hobbyist drones than of police drones. Of those surveyed, 73% said that they wanted regulations for small, lightweight privately-owned drones, whereas 62 percent responded favorably to the idea that police should use drones to deter crime. (Reuters)
Chinese e-commerce giant Alibaba will begin testing drone delivery systems in three cities. In the trials, which are being launched in Beijing, Shanghai, and Guangzhou, drones will deliver packets of ginger tea. (CNN)
Commentary, Analysis and Art
At Wired, Kevin Poulsen considers the larger ramifications of DJI's geofencing, a feature of the the firmware update for Phantom quadcopters that would prevent users from flying into certain areas.
At the Electronic Frontier Foundation, Parker Higgins questions the logic of DJI's geofencing solution to the White House drone crash.
At Fortune, Elizabeth Segran profiles Lisa Ellman, a lawyer who is helping President Obama draft rules for commercial drones.
James Mackler, a criminal defense attorney, argues that law enforcement officers might be outside of their jurisdiction when investigating drone-related offenses for the FAA. (UAS Magazine)
At the New York Times, Farhad Manjoo argues that the drone industry needs to be given an opportunity to innovate, as the "most interesting applications for drones are the ones we can't predict."
At Slate, Faine Greenwood argues that press freedom is the biggest casualty of Thailand's crackdown on drones.
At the L.A. Times, Ryan Calo, a law professor at the University in Washington who specializes in robotics, says drone operators— not the technology– must be the focus of regulation.
At the Guardian, Nicholas Blincoe considers whether startup drone manufacturers can compete with Amazon and Google for the commercial drone market.
At Forbes, Frank Bi argues that the reality of Alibaba's proposed drone delivery service doesn't live up to expectations.
In a letter, Rep. Duncan Hunter, a Republican member of the House Armed Services Committee, urges President Obama to sell armed drones to Jordan. (The Hill)
At Defense One, Patrick Tucker takes a look at the Pentagon's proposal to purchase 29 new MQ-9 Reapers in FY 2016.
At Al Jazeera, Neve Gordon argues that drones allow governments to engage in manhunts instead of in war.
Drone Wars UK released initial figures of the number of British drone strikes in Iraq and Syria since the air campaign began last fall.
At Newsweek, Lauren Walker points out that drone strikes continue to take place in spite of President Obama's promise to curb the practice.
At the Bureau of Investigative Journalism, Jack Serle considers whether the latest U.S. drone strike in Somalia signals a change in tactics.
"Drone," a documentary by Flimmer Film, examines the consequences of the rise of robotics in the U.S. military. (The Guardian)
To mark the 70th anniversary of the liberation of Auschwitz, the BBC used a drone to create a haunting film of the former concentration camp.
Know Your Drone
NASA and the FAA have announced successful tests of a proof-of-concept drone sense and avoid system. The project is a collaboration with contractors General Atomics and Honeywell. (UAS Magazine)
Robotics Trends has put together a list of 6 useful phone apps for drone users.
Drone company PrecisionHawk has unveiled a cellular-based tracking and avoidance system that can be installed on drones. (Aviation Today)
Turkish Aerospace Industries has reported its successful maiden flight of the Anka Block B medium-altitude military surveillance and reconnaissance drone. (IHS Jane's 360)
Mother Jones compiled some notable drone trademarks.
Drones at Work
The UAE Drones for Good competition opened this week in Dubai's Internet City. Participants submitted case studies of a range of potentially beneficial applications of drones, from wildlife conservation to emergency medical assistance. The winning drone, developed by Swiss company Flyability, is designed for rescue missions in confined spaces. (Al Arabiya)
Animal conservationists in Canada are using drones to count caribou and keep track of endangered bird populations. (Mashable)
The FAA issued a warning to sports fans not to bring drones to the Super Bowl, calling the major sporting event a "no drone zone." (New York Times)
Politicians on the campaign trail are increasingly turning to drones to help shoot advertisements. (Politico)
Rice Research Australia is examining ways that drones could assist with surveying rice fields by collecting data on rice density and weeds. (ABC)
For updates, news, and commentary, follow us on Twitter.
For Mashable's take on the week in drone news, check out the Drone Beat. 
[includeme file="tools/sympa/drones_sub.php"]