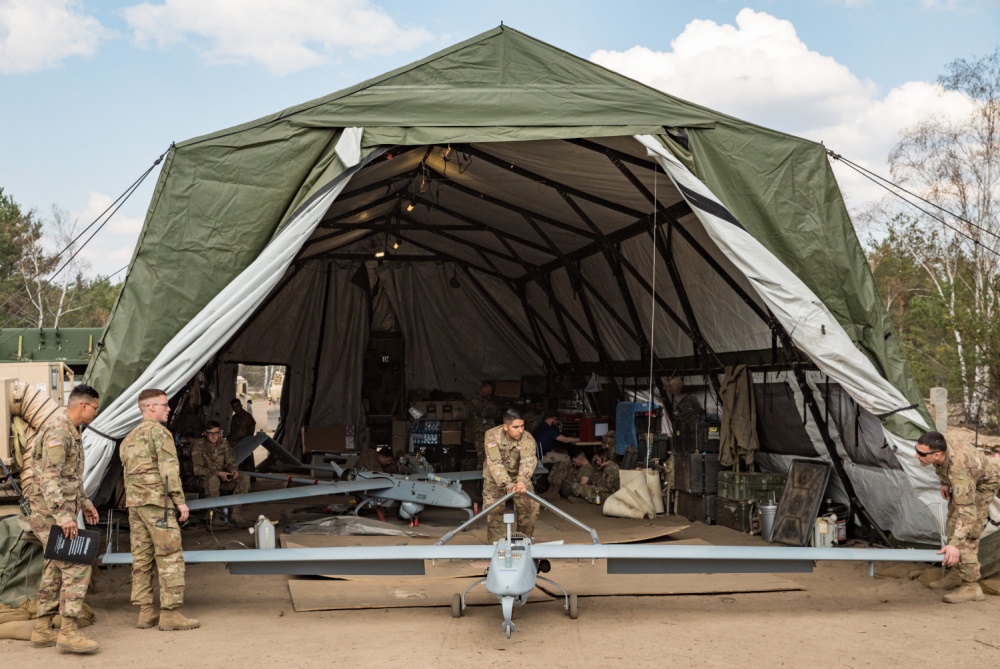 April 8, 2019 – April 14, 2019
If you would like to receive the Weekly Roundup in your inbox, please subscribe at the bottom of the page.
Top Stories
The Australian Civil Aviation Safety Authority has granted Alphabet's Project Wing permission to begin limited commercial drone deliveries. Project Wing has been testing drone delivery systems in Australia since 2014. Under the new permission, Project Wing drones will deliver groceries, coffee, gelato, and pharmacy goods to a number of pre-approved households in North Canberra. (Reuters)
Police confiscated a drone that flew over a Major League Baseball game at Boston's Fenway Park late Thursday evening. Authorities later identified the operator as a juvenile. Under Federal Aviation Administration regulations, drones are banned from all major sporting events.  (The Boston Globe)
Chinese drone maker DJI and the Los Angeles Fire Department announced a new partnership to test and field a range of DJI drones for emergency response operations. A significant majority of public safety agencies with drone programs in the U.S. use DJI-branded drones. (Press Release) For more on public safety drones, click here.
Know Your Drone
Saudi government research organization King Abdulaziz City for Science and Technology is testing a converted unmanned helicopter. (Jane's)
French defense firm Thales unveiled the BRAIN, a modular unmanned vehicle that can be configured for aerial, terrestrial, or maritime operations. (Jane's)
The Russian Advanced Research Foundation is developing a cyclocopter drone, which flies using an "egg-beater wing" propulsion system. (Popular Mechanics)
U.S. drone maker General Atomics Aeronautical Systems conducted its first end-to-end flight of one of its drones from its new Certifiable Ground Control Station. (Unmanned Systems Technology)
The U.S. Marine Corps is looking to integrate autonomous capabilities into two Kaman K-MAX helicopter drones as it explores ways to reduce the need for human pilots in some of the service's airborne operations. (FlightGlobal)
Meanwhile, a senior Marine Corps officer announced that the service is exploring the possibility of using drones to protect ground forces from adversary drones. (Marine Corps Times)
The U.S. Marine Corps has contracted SAIC to build two prototypes of a reconnaissance armored combat vehicle with the ability to deploy and control drones and unmanned ground vehicles. (Military & Aerospace Electronics)
U.S. robot maker Brain Corp unveiled the AutoDelivery, a proof-of-concept delivery ground robot. (AUVSI)
Drones at Work
Aerospace giant Airbus said that one of its Zephyr high-altitude pseudo-satellite drones experienced an "interrupted" flight during testing for the U.K. Ministry of Defence, declining to provide further details. (Reuters)
The Memorial Villages Police Department in Texas has launched a law enforcement drone program. (Click2Houston)
The South Korean Army has begun using a forensic system to analyze unauthorized drone videos of the country's military facilities in order to glean information about the drone's location and flight patterns. (Korea Herald)
The Saudi-led coalition said that it shot down a Houthi drone that was approaching 'Asir, Saudi Arabia. (Reuters)
Meanwhile, the U.S. Army announced that it successfully completed a counter-drone exercise at Camp Carroll in Waegwan, South Korea. (Military.com)
The Mexico City Police Department has launched a program to use drones for security at major events. (Press Release)
Police are investigating after a drone was spotted flying over the Ulster Gliding Club in County Londonderry, Northern Ireland. (BBC News)
Thornton City Council in Colorado passed a set of regulations criminalizing drone use that violates privacy, harasses animals or people, or hinders the work of emergency officials. (The Denver Post)
The town of Mammoth Lakes, California has amended a local ordinance to require drone pilots to obtain a permit in order to fly over town-owned land. (The Sheet) For more on drone ordinances, click here.
The Russian military has stationed an Orlan-10 reconnaissance drone at an artillery division on a group of contested islands north of Hokkaido, Japan. (Japan Times)
Northeastern University and the George J. Kostas Research Institute for Homeland Security opened an anechoic chamber facility for testing counter-drone systems. (Northeastern University)
A team from DriveOhio, the University of Cincinnati, and the Unmanned Aircraft Systems Group is launching a project to use drones to study traffic problems in Springboro, Ohio. (Dayton Daily News)
The Danish Maritime Authority is using a drone to monitor the sulfur emissions of oil tankers to ensure that shipping companies are complying with environmental regulations. (The Maritime Executive)
Industry Intel
U.S. Special Operations Command awarded Technology Service Corporation a $49 million indefinite-delivery/indefinite-quantity contract for a long-endurance drone. (DoD)
IMSAR announced that it will provide its NSP-5 Synthetic Aperture Radar system for the Marine Corps' RQ-21A Blackjack. (Unmanned Systems Technology)
The U.K. Ministry of Defense has launched a £2 million competition to identify effective and inexpensive counter-drone solutions. (Press Release)
FLIR Systems is investing in and partnering with DroneBase, a Los Angeles-based company that offers a network of drone pilots for commercial operations. (TechCrunch)
Sentient Blue, an Italian company that develops small engines for drones, won New York's $1 million GENIUS NY competition. (Associated Press)
Commentary, Analysis, and Art
At FlightGlobal, Garrett Reim examines the U.S. Army's requirements for the Future Tactical Unmanned Aircraft System, the planned replacement for the RQ-7 Shadow.
Also at FlightGlobal, Garrett Reim looks at how the  Army is looking to cargo drones as a way to resupply frontline troops without putting manned aircraft at risk from long-range precision weapons.
At USNI News, Megan Eckstein writes that the U.S. Navy is making a big bet on unmanned warships.
At the Drone Girl, Sally French looks at why drone companies are concerned by the low number of comments in response to the FAA's proposed rules for flying drones over people.
At The Conversation, Stephen Rice and Mattie Milner writes that even though the public is generally wary of unmanned aircraft flying over their property, most uses for drones have nothing to do with surveillance or snooping.
In a discussion at the International Security Conference & Exposition, a National Football League security official argued that the NFL needs permission to shoot down drones. (Washington Examiner)
At Shephard Media, Richard Thomas looks at some of the hurdles commercial drone deliveries will face in urban environments.
Meanwhile, at FlightGlobal, Beth Stevenson examines a few of the unexpected evolutions of the drone delivery concept.
For updates, news, and commentary, follow us on Twitter.