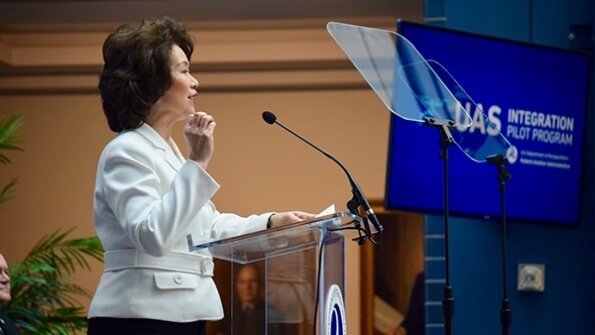 May 7, 2018 – May 13, 2018
If you would like to receive the Weekly Roundup in your inbox, please subscribe at the bottom of the page.
Top Stories
The U.S. Department of Transportation and Federal Aviation Administration revealed their selection of the first 10 projects for the UAS Integration Pilot Program (UAS IPP). In each of the projects, which were selected from a pool of 149 applicants, a state, local, or tribal government will collaborate with industry partners on a variety of advanced drone operations such as beyond line-of-sight flights and drone deliveries. These programs will be used to inform future changes to regulations for domestic drone use. (Washington Post)
LG Uplus announced that it has been selected by the South Korean government to run several drone test sites. The Korean telecommunications company will partner with five other firms to explore ways that drones may be safely used for industrial inspections, agriculture, and public safety. The project is organized by the Ministry of Land, Infrastructure and Transport and the Korea Institute of Aviation Safety and Technology. (The Korea Times)
Know Your Drone
The U.S. Coast Guard has issued a request for proposals for a maritime surveillance drone capable of flying for more than 24 hours. This system would be the service's largest and most capable unmanned aircraft to date. (FlightGlobal)
Defense firm Rheinmetall Canada conducted the first live fire test from its armed Multimission Unmanned Ground Vehicle. (Shephard News)
Robotics firm Boston Dynamics released two videos, one showing its Atlas humanoid robot running and jumping over an obstacle and the other showing its SpotMini quadruped robot navigating an indoor environment. (The Washington Post)
U.S. firm Ghost Robotics unveiled the Vision Series of legged surveillance and data collection ground robots. (Jane's)
U.S. defense firm Lockheed Martin unveiled an upgraded Indago 3 quadcopter drone equipped with an infrared camera. (Shephard Media)
The U.S. Army Research Laboratory and Uber are partnering to develop quiet rotor technologies for vertical lift drones. (Press Release)
xG Technology has announced that it is developing a live video link system for the K2 Unmanned Systems Knight Hawk, a tactical drone designed for law enforcement. (Unmanned Systems Technology)
U.S. defense firm Dynetics released a video revealing new details about DARPA's Gremlins program, which seeks to develop air-launched swarming drones. (The Drive)
The U.K. Ministry of Defence has completed a successful trial of an autonomous maritime minesweeper system developed by Atlas Elektronik UK. (Unmanned Systems Technology)
DARPA issued a presolicitation for its Urban Reconnaissance and Security with Supervised Autonomy program, which seeks to develop systems that would allow unmanned vehicles to detect hostile actors in urban environments. (FBO)
Drones at Work
Uber chief executive Dara Khosrowshahi announced that the company will launch a program to deliver food with drones in San Diego as part of one of the partnerships selected by the FAA for the UAS IPP. (Bloomberg)
The U.S. Navy announced that it will establish a squadron dedicated to research, development, and testing of aerial drone technologies. (Navy Times)
U.S. drone maker General Atomics Aeronautical Systems conducted a demonstration of its Guardian medium-altitude long-endurance drone over Iki Island in Japan. (Unmanned Systems Technology)
The Israeli settlement of Efrat in the West Bank has acquired a drone for surveillance. (The Jerusalem Post)
Firefighters in Goseong, South Korea used a drone to assist in the response to a forest fire. (The Korea Times)
The U.K.'s Civil Aviation Authority has banned the use of drones over Windsor during the wedding of Prince Harry and Meghan Markle. (The Telegraph)
The U.S. Army is accelerating the deployment of a variant of the Stryker armored fighting vehicle equipped with counter-drone systems. (Popular Mechanics)
In a statement published in state-owned media, a Russian official claimed that the Russian military is testing the Uran-9 unmanned ground vehicle in Syria. (Defense News)
Israeli authorities are enlisting drone hobbyists to help disable burning kites that are entering Israeli airspace from Gaza. (Haaretz)
Industry Intel
The U.S. Navy awarded Bell Helicopter Textron a $21.7 million contract modification for seven Bell 407 helicopter airframes to support the MQ-8C Fire Scout program. (DoD)
The U.S. Navy awarded Insitu a $11 million contract for spare and sustainment parts for the Marine Corps' RQ-21A Blackjack. (DoD)
The U.S. Navy intends to award Rockwell Collins a $4 million contract for work on an Ethernet capability for the MQ-25 Stingray. (FBO)
The U.S. Marine Corps awarded Endeavor Robotics a $10 million contract for the FirstLook throwable robot. (Jane's)
The Department of Homeland Security awarded Intelleuron a $200,000 contract for software that will help drones automatically detect objects on the ground. (Nextgov)
DJI has partnered with Microsoft to develop software for drones. (Geek Wire)
Aurora Flight Sciences has purchased the Lockheed Martin Vehicle Control Station International, a system for operating dozens of drones simultaneously. (Jane's)
Kansas has allocated state funds to build a facility at Cook Airfield for training drone pilots. The program will be run by Kansas State University Polytechnic and Butler Community College. (Wichita Business Journal)
Insurance firm Nationwide announced that it has invested in Betterview, a startup that uses software to automatically analyze data from drones for insurance estimates. (The Columbus Dispatch)
The government of Rwanda has partnered with U.S. firm Swift-x to expand commercial drone operations in Rwanda. (The New Times)
The Dutch Ministry of Defense awarded Prox Dynamics a contract for dozens of Black Hornet micro drones for the Royal Netherlands Army and Marines. (Jane's)
Meanwhile, the Royal Netherlands Air Force took delivery of a new drone training simulator. (Shephard News)
The Bundeswehr awarded AeroVironment a contract for the RQ-20B Puma II AE drone for the German Navy. (Jane's)
At the SOFEX 2018 trade show, the Royal Jordanian Air Force presented its CASC CH-4 drone for the first time. (Shephard News)
The Russian Ministry of Defense will take delivery of 30 Eleron-3 reconnaissance drones this month. (Shephard News)
Aircraft leasing firm JetLease has partnered with UAVOS to modernize the Albatross 2.2, an optionally-manned aircraft based on the Pipistrel Sinus. (Shephard News)
Commentary, Analysis, and Art
At War on the Rocks, Pablo Chovil offers some takeaways on the role that small drones played in the battle for Mosul.
At the Washington Post, Michael Laris considers the security challenges posed by drones at large sporting events.
In a podcast at the Modern War Institute, Paul Scharre discusses the future of autonomous warfare.
At The Daily Beast, Adam Rawnsley speaks with relatives of a family killed in a recent U.S. drone strike in Yemen.
At Defense News, Valerie Insinna investigates aircraft mishap records from Afghanistan and explains what they reveal about the role that a little-known U.S. drone is playing in the conflict there.
Also at Defense News, Pierre Tran writes that the Anglo-French drone development project known as FCAS is reorienting to focus on surveillance capabilities.
At World Politics Review, Sarah Kreps argues that the new U.S. drone export policy is not all that different from previous U.S. positions.
At Inside Indiana Business, Kylie Veleta looks at how an Indiana-based startup is working to develop software that can analyze crop data from drones in real time and without requiring an Internet connection.
At Bloomberg News, Marie Mawad and Ania Nussbaum write that U.S. companies and government agencies are turning to experts in France to explore ways of developing a drone traffic management system.
At MarketWatch, Sally French writes that Amazon was not among the companies selected by the FAA to participate in the UAS Integration Pilot Program.
At CNBC, Anmar Frangoul profiles a Spanish company that is seeking to disrupt the air freight transportation industry using drones.
The U.S. Senate Commerce, Science and Transportation subcommittee held a hearing on integrating drones into the national airspace. (Aviation Week)
A team at the Rochester Institute of Technology attached a medium format panoramic camera to a DJI Matrice drone to create a series of large-scale panoramic images of Rochester, New York. (PetaPixel)
Photographer Demian Barrios used a drone to capture aerial images of Hawaii's Kilauea volcano as it erupted. (Wired)
For updates, news, and commentary, follow us on Twitter.
[includeme file="tools/sympa/drones_sub.php"]