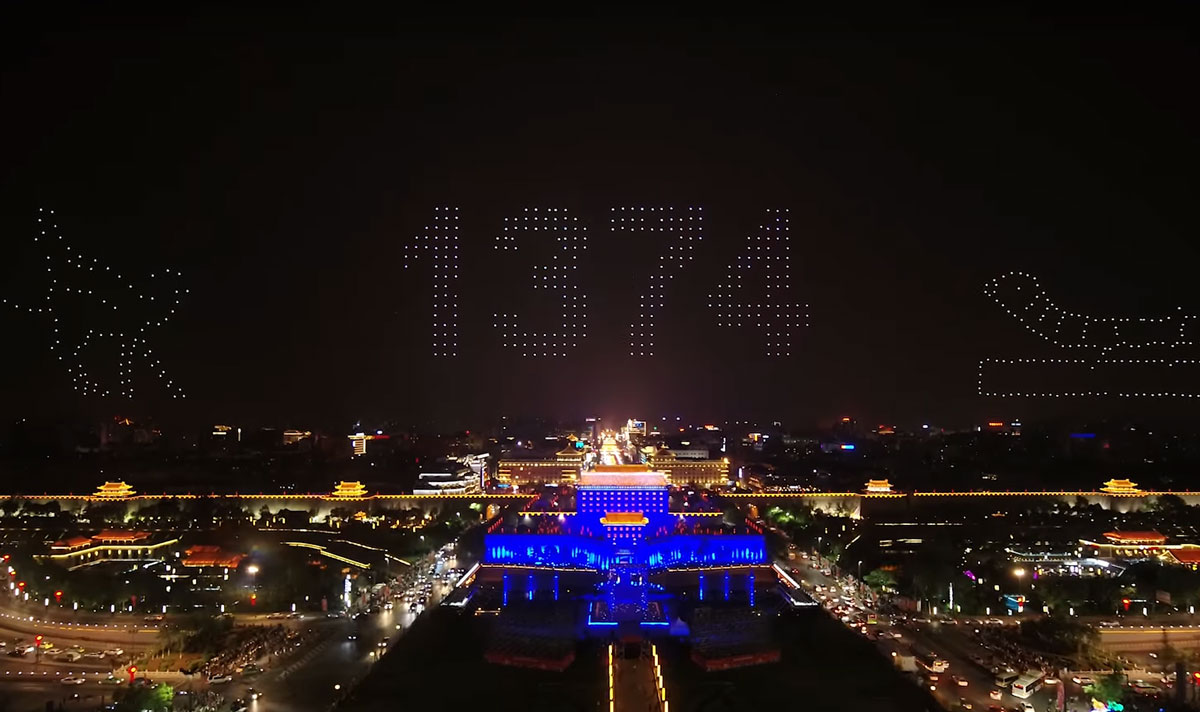 April 30, 2018 – May 6, 2018
If you would like to receive the Weekly Roundup in your inbox, please subscribe at the bottom of the page.
At the Center
Each year, the Center for the Study of the Drone's staff participate in a variety of public events both in the U.S. and abroad. To see a list of upcoming events, click here.
Top Stories
A criminal gang in the United States reportedly used a swarm of drones to distract FBI agents during a raid last year. In a talk at the Association for Unmanned Vehicle Systems International's Xponential conference, FBI official Joe Mazel said that the incident left the agents without situational awareness and appeared to have been pre-planned by the operators. (Defense One)
In an aerial performance featuring 1,374 drones, Chinese drone manufacturer Ehang Egret broke the world record for the largest coordinated drone swarm. Over 100,000 people reportedly attended the event celebrating Labor Day in the ancient walled city of Xi'an. Towards the end of the performance some of the drones broke formation and crashed. (Quartz)
The Trump administration is reviewing a policy established by the Obama administration requiring an annual report on civilian casualties of U.S. counterterrorism operations outside of areas of declared hostilities. The report, which was due last week, was first published by the Obama administration in 2016 as part of a push to improve transparency surrounding drone strikes. (Washington Post)
Know Your Drone
Defense firm BAE and aerospace venture Prismatic unveiled the PHASA-35, a solar-powered high-altitude long-endurance drone that can remain airborne for up to a year. (Jane's)
U.S. drone maker Insitu launched a new variant of its popular ScanEagle surveillance drone, the ScanEagle3, designed for commercial markets. (Press Release)
Drone maker AeroVironment announced that it is developing a range of small vertical take-off and landing drones that will begin testing later this year. (Jane's)
Washington-based firm PowerLight Technologies announced that it is preparing to unveil a system that employs laser beams to remotely power unmanned vehicles, including drones and unmanned submarines. (Aviation Week)
A team at the California Institute of Technology is developing an autonomous ambulance drone for airlift operations. (CBS Los Angeles)
Kongsberg Geospatial, Echodyne Corp and uAvionix announced that they are jointly developing a radar-based counter-drone system called Argus. (Shephard Media)
The U.S. Army announced that it intends to conduct the first ever launch of a drone from a helicopter later this year. (Defense News)
German firm Lange Aviation unveiled the Antares E2, a fuel-cell powered surveillance drone with an endurance of up to 40 hours. (Aviation Week)
The U.S. Defense Innovation Unit Experimental has issued a solicitation for a drone system capable of delivering a five-pound package of blood over a distance of more than 100 km. (C4ISRNET)
U.S. firm Textron unveiled the X5-55, a vertical take-off and landing fixed-wing drone designed to be used as an engineering testbed. (FlightGlobal)
Singapore's Navy has completed a series of trials of the Schiebel S-100 Camcopter drone from one of its Littoral Mission vessels. (Jane's)
Helicopter maker Bell is developing an autonomous tail-sitting transport drone called POD, which it is hoping to demonstrate to U.S. military branches later this year. (FlightGlobal)
Chinese startup Levetop Technology is launching a folding consumer drone called the LeveTop. (Gizmochina)
Drones at Work
Chicago's mayor has introduced a bill that would permit police to use drones over large gatherings such as concerts, sporting events, and protests. (Chicago Sun-Times)
The U.K.'s Royal Air Force has revealed that it has previously fired thermobaric bombs from its fleet of Reaper drones during operations in Syria. (Middle East Eye)
The National Innovation Centre, a Nepali non-profit, is developing the country's first medical drone delivery program, which will serve communities in remote areas. (Reuters)
Silicon Valley company Intuit is establishing a ground robot delivery system for employees who order food to their desks. (The Guardian)
As part of the UAS Integration Pilot Program, the U.S. Department of Transportation will fund 10 projects, five more than initially announced. (Air Transport World)
The Arizona Department of Transportation has acquired eight multirotor drones for inspections. (KTAR)
Police in South Jeolla Province in South Korea have deployed drones to patrol a 103 km stretch of highway. In the first day of operations, 113 traffic offenders were caught. (South China Morning Post)
In a case brought forward by two journalists, a federal judge questioned the U.S. government's authority to unilaterally target U.S. citizens as part of the targeted killing program. (Washington Post)
The Spokane Fire Department in Washington announced that it plans to use drones for future water rescue operations. (The Seattle Times)
Police in Italy used a drone to discover a large cannabis plantation hidden in a tomato farm. (The Local)
Industry Intel
The U.S. Army awarded Raytheon a $28.5 million contract for 20 common sensor payloads for the MQ-1C Gray Eagle. (DoD)
The U.S. Special Operations Command awarded AAI Corp. a maximum $120 million contract for continuation of mid-endurance drone services. (DoD)
The Department of Defense has reprogrammed $18 million in funding for the RQ-21 Blackjack in order to meet a shortfall. (Inside Defense)
Photos released by Azerbaijan revealed that the country's military has acquired at least one Israeli-made Elbit Systems Hermes 900 drone. (Jane's)
The Trump administration has granted Kratos Defense and Security Solutions permission to market the jet-powered Mako drone to partner nations in Europe and Asia. (Defense News)
Defense Forces Ireland selected COPTRZ to provide multirotor drones for Ireland's Corps of Engineers. (sUAS News)
AeroVironment has partnered with FlightWave to add a vertical take-off and landing capability to future aircraft. (FlightGlobal)
Allianz Global Corporate and Specialty has partnered with Israel's ParaZero to provide insurance policies for drones. (Shephard Media)
The Northeast UAS Airspace Integration Research Alliance, a planned airspace corridor in New York designated for testing drones, selected Raytheon to help develop the site. (GPS World)
Insitu has partnered with the University of North Dakota at Grand Forks on the university's drone degree and research program. (Geospatial World)
Kittyhawk, a drone operations software service, partnered with Jeppesen, a Boeing subsidiary, to provide digital airspace authorization for drones. (Drone Life)
London-based startup Flock launched a pay-as-you-go drone insurance option for hobbyists. (Drone Life)
Norway's Robot Aviation AS acquired UAS-Europe, a Swedish drone manufacturer. (sUAS News)
Commentary, Analysis, and Art
At Jane's, Beatrice Bernardi writes that advanced autonomous capabilities are increasingly a requirement for military drones.
Army of None, a new book by Paul Scharre, explores how the advent of autonomous weapons could change warfare. (NPR)
On the AI with AI podcast, Andy Ilachinski and David Broyles discuss recent developments in artificial intelligence.
A report by the Congressional Research Service considers the national security implications of artificial intelligence. (FAS)
At FlightGlobal, Garrett Reim looks at how a U.S. military project aims to give small drones aerial dogfighting capabilities.
Also at FlightGlobal, Arie Egozi writes that the new U.S. drone exports policy could open the door for increased exports by Israeli companies.
Meanwhile, at Aviation Week, Arie Egozi looks at how Israeli drone manufacturers are seeking to develop drones capable of supporting electronic warfare missions.
At Just Security, Rachel Stohl writes that the White House has largely framed its new drone exports policy in terms of its potential benefits to the U.S. economy.
At Wired, Jack Stewart looks at how Airbus is offering a commercial imagery service that combines images from drones, aircraft, and satellites.
At Reuters, Liz Hampton describes how robots and drones contribute to work on offshore oil rigs.
At Defense One, Daveed Gartenstein-Ross considers how terrorists might use artificial intelligence systems.
At The Drive, Joseph Trevithick looks at how the U.S. Marine Corps is considering replacing infantry mortars with loitering munitions.
At Aviation Week, Tony Osborne writes that future European cooperative defense projects could depend on the success of the EuroMALE drone project.
Also Aviation Week, Graham Warwick writes that Intel Corporation could begin playing a larger role in the industrial drone market.
At the Hindustan Times, Shishir Gupta writes that the U.S. could be on the verge of a deal to sell General Atomics Guardian drones to India.
A report by the Operation of Chemical Weapons Convention Scientific Advisory Board looks at how drones could be used to support investigations. (PDF)
At the BBC, Mary-Ann Russon looks at how drones can help improve connectivity in emergency situations.
Researchers at the University of Queensland and University of New England are telling farmers to exercise care when using drones to obtain accurate assessments of plant health. (North Queensland Register)
At Aerospace America, Jan Tegler considers the challenges in designing an effective aerial refueler drone for the U.S. Navy.
At C4ISRNet, Kelsey Atherton looks at how a consumer drone appears to have been used in a drone attack in eastern Ukraine.
At the New York Times, photojournalist Josh Haner explains why a drone has become an essential piece of equipment for his job.
For updates, news, and commentary, follow us on Twitter.
[includeme file="tools/sympa/drones_sub.php"]