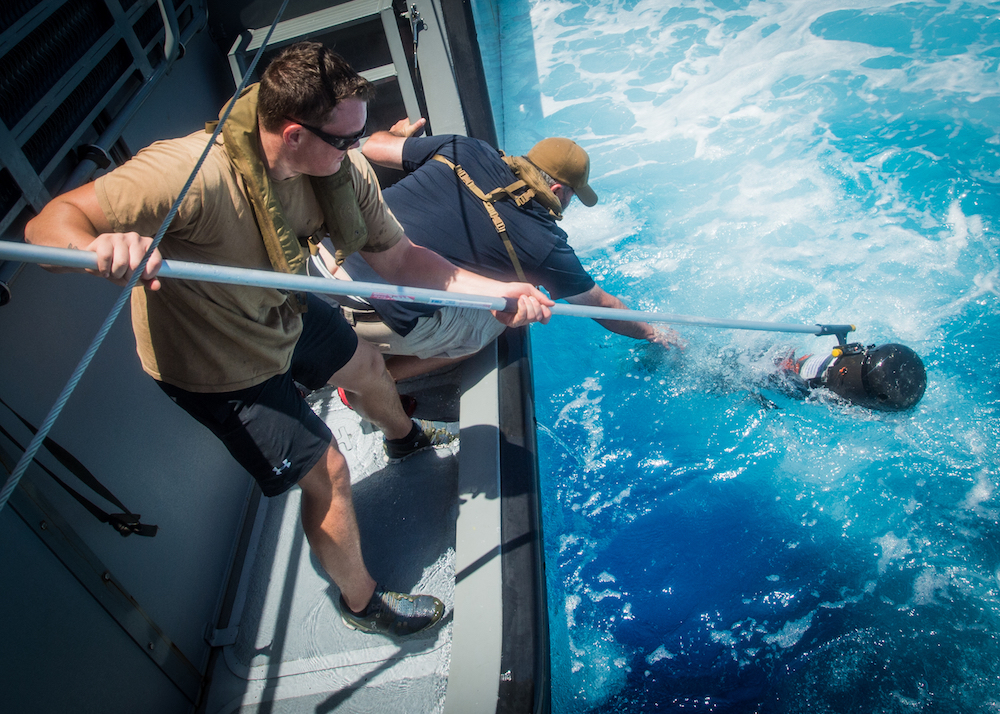 May 8, 2017 – May 14, 2017
If you would like to receive the Weekly Roundup in your inbox, please subscribe at the bottom of the page.
News
The International Civil Aviation Organization announced that it plans to develop global standards for small unmanned aircraft traffic management. In a statement at the Association of Unmanned Vehicle Systems International's Xponential trade conference, the United Nations agency said that as part of the initiative it has issued a Request for Information on air traffic management systems for drones. (GPS World)
Virginia Governor Terry McAuliffe has created a new office dedicated to drones and autonomous systems. According to Gov. McAuliffe, the Autonomous Systems Center for Excellence will serve as a "clearinghouse and coordination point" for research and development programs related to autonomous technologies. (StateScoop)
Commentary, Analysis, and Art
At the Telegraph, Alan Tovey writes that the U.K.'s exit from the European Union is unlikely to affect cross-channel cooperation on developing fighter drones.
At the Dead Prussian Podcast, Ulrike Franke discusses the role that drones currently play in the military.
At IHS Jane's 360, Daniel Wasserbly writes that the U.S. Marine Corps will slow its acquisition of the Boeing Insitu Blackjack drone.
At the Bulletin of Atomic Scientists, James Rogers argues that the Trump administration policy on drones is "likely to prove counterproductive."
At IEEE Spectrum, David Schneider examines state and local drone regulations.
In the Journal of Archaeological Science, Sean Field, Matt Waite, and LuAnn Wandsnider consider the utility of drones for archeological surveys.
At RJI Online, Jennifer Nelson looks at what a television station in Idaho is learning about using drones for news coverage.
A report by the European Center for Constitutional and Human Rights considers the "impact of drone attacks on law, warfare and society."
At The New York Times, William Grimes visits "Drones: Is the Sky the Limit?," a new exhibition at the Intrepid Sea, Air & Space Museum.
In a paper in the International Organization journal, Matthew Fuhrmann and Michael C. Horowitz consider the reasons that states acquire drones.
At Bloomberg, Justin Bachman looks at how different companies are seeking an advantage in managing data from drones for commercial purposes.
At the Associated Press, Dario Lopez and Joshua Goodman write about a U.S. Coast Guard program using drones to counter maritime smuggling.
In a speech at the Xponential 2017 trade show, Intel Corporation CEO Brian Krzanich argued that data will be the most significant aspect of the drone industry. (AUVSI)
At the South China Morning Post, Li Tao writes that China's popular consumer drone brands are increasingly turning to the commercial sector.
At Defense One, Marcus Weisgerber writes that the Pentagon is using machine-learning to help identify ISIS targets.
Know Your Drone
Saudi Arabia's King Abdulaziz City for Science and Technology unveiled the Saqr 1, an armed drone with a range of up to 2,500 km. (IHS Jane's 360)  
U.S. drone maker AeroVironment unveiled the Snipe, a nano quadcopter that weighs just 150 grams. (New Atlas)
In a test, startup Volans-i flew a delivery drone along a 100-mile route in Texas, a new record for a drone delivery. (Tech Crunch)
Energy firm twingtec is developing a tethered drone that harvests power from the wind. (Design Boom)
The U.S. Army is seeking a midsize cargo drone that could operate with a high level of autonomy. (FlightGlobal)
Nautilus, a California startup, is developing a cargo drone that could carry thousands of pounds of goods over long distances. (Air & Space Magazine)
Drone maker Pulse Aerospace unveiled two new rotorcraft drones for military and commercial applications, the Radius 65 and the Vapor 15. (Press Release)
Piaseki Aerospace will likely submit its ARES demonstrator drone for the U.S. Marine Corps' Unmanned Expeditionary Capabilities program. (FlightGlobal)
Turkish defense firm Aselsan has unveiled two new counter-drone systems. (IHS Jane's 360)
Defense firm Kratos confirmed that it has conducted several demonstration flights of a high performance jet drone for an undisclosed customer. (FlightGlobal)
Technology firm Southwest Research Institute has been granted a patent for a system by which military drones can collaborate with unmanned ground vehicles. (Unmanned Aerial Online)
The U.S. Army is interested in developing a mid-size unmanned cargo vehicle that could carry up to 800 pounds of payload. (FlightGlobal)
A student at the Milwaukee Institute of Art and Design has created a drone designed to help parents track their children. (Milwaukee Journal Sentinel)
French drone maker Parrot is set to begin developing a line of prosumer drones. (Recode)
Defense firm Qinetiq has announced that it will pursue the U.S. Army's Lightweight Reconnaissance Robot program. (IHS Jane's 360)
The U.S. Army is seeking a replacement engine for the RQ-7 Shadow tactical drone. (FlightGlobal) 
Researchers at Carnegie Mellon have been crashing autonomous drones repeatedly in order to teach them how to avoid crashing. (IEEE)
An Air Force investigation found that the cause of the crash of an MQ-9 Reaper drone in Nevada last summer was pilot error. (Press Release)
A Defense Advanced Research Projects Agency press release describes in detail its recent military academy swarming competition.
Raytheon announced that it has installed ground-based sense-and-avoid systems at a number of air bases in the U.S. (IHS Jane's 360)
The Digital Circuit has put together a compilation of images of some of the more interesting drones at this year's Xponential drone conference.
Drones at Work
A drone flying over a bike race in in Rancho Cordova, California crashed into a cyclist. (Market Watch)
Meanwhile, a consumer drone crashed into a car crossing the Sydney Harbor Bridge in Australia. It is the second time a drone has crashed at the site of the bridge in the past nine months. (Sydney Morning Herald)
Insurance company Travelers has trained over 150 drone operators to use drones for insurance appraisals over properties. (Insurance Journal)
Kazakhstan's armed forces displayed a number of its recently acquired unmanned aircraft during a military parade. (IHS Jane's 360)
A Latvian technology firm used a large multirotor drone to carry a skydiver to altitude before he parachuted back down to earth. (Phys.org)
Clear Flight Solutions and AERIUM Analytics are set to begin integrating the Robird drone system, a falcon-like drone that scares birds away from air traffic, at Edmonton International Airport. (Unmanned Systems Technology)
Industry Intel
The U.S. Army awarded General Atomics Aeronautical Systems a $221.6 million contract modification for 20 extended range Gray Eagle drones and associated equipment. (DoD)
The U.S. Air Force awarded General Electric a $14 million contract for work that includes the Thermal Management System for unmanned aircraft. (DoD)
The U.S. Navy awarded Boeing Insitu a $8.1 million contract for spare parts for the RQ-21A Blackjack. (DoD)
The United Arab Emirates awarded Canada-based CAE a contract estimated at $40.9 million to train drone operators. (UPI)
Airbus opened a subsidiary in Atlanta that will sell imagery from satellites and drones to commercial clients. (AIN Online)
Turkish Aerospace Industries will begin cooperating with ANTONOV Company on the development of unmanned systems. (Press Release)
Aker, a company that develops drones for agriculture, won $950,000 in funding from the Clean Energy Trust Challenge. (Chicago Tribune)
For updates, news, and commentary, follow us on Twitter.
[includeme file="tools/sympa/drones_sub.php"]