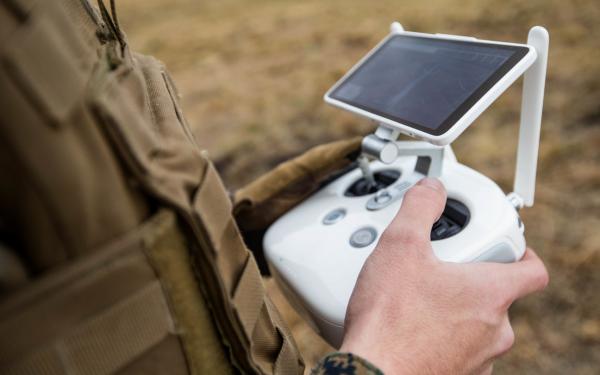 June 11, 2018 – June 17, 2018
If you would like to receive the Weekly Roundup in your inbox, please subscribe at the bottom of the page.
Top Stories
A U.S. drone strike in Afghanistan killed Mullah Fazlullah, the leader of the Pakistani Taliban. According to a U.S. military spokesperson, who did not name the target of the operation, the strike took place in Kunar province, near Afghanistan's border with Pakistan. The Pakistani Ministry of Defense confirmed that Fazlullah had been killed. Fazlullah was responsible for multiple terrorist attacks in Pakistan, including the shooting of Malala Yousafzai. (New York Times)
Israel and Germany have finalized a lease agreement for five Israel Aerospace Industries Heron TP surveillance drones. The Heron TP's will replace a fleet of Heron 1 drones that Germany used for operations in Mali and Afghanistan. (Defense News)
A federal judge will allow a U.S. journalist to challenge the U.S. government's alleged decision to include him on the drone strike "kill list." U.S. District Judge Rosemary Collyer ruled that freelance journalist Bilal Abdul Kareem, who claims that he was mistakenly included in the list, has a right to due process. (The Washington Post)
The European Parliament approved key principles for E.U.-wide regulations for safely integrating drones into the Union's airspace system. The regulations would replace the patchwork system of national rules currently in place. Now European Union ministers will need to approve the principles before proceeding to implement regulations. (EU News)
The U.S. Department of Defense has suspended the acquisition and use of off-the-shelf commercial drone systems. In a statement to C4ISRNET, a Pentagon spokesperson said that the decision stemmed from the cybersecurity risks of using commercially-available systems.
Know Your Drone
Researchers at the U.S. Naval Research Laboratory are developing a solar panel technology that could enable lightweight drones to fly for up to 12 hours per mission. (Press Release)
Milrem Robotics and MBDA have announced a joint initiative to develop an anti-tank unmanned ground vehicle. (Unmanned Systems Technology)
Serbian firm Yugoimport unveiled the X-01 Strsljen, an armed helicopter drone. (Jane's)
Meanwhile, Chinese aerospace firm Ziyan unveiled the Blue Fish, an armed electric helicopter drone. (Army Recognition)
U.S. firm Headwall Photonics has unveiled a series of combined hyperspectral and lidar sensor payloads for aerial drones. (Laser Focus World)
A team at Stanford University is studying swarms of midges in a bid to develop control systems for swarming drones. (Press Release)
Chinese startup Geneinno has launched a Kickstarter campaign for the Titan, a small camera-equipped underwater drone for recreational users. (Digital Trends)
Meanwhile, a startup called LeveTop has launched a Kickstarter campaign for a compact consumer quadcopter. (The Drive)
Rheinmetall Canada unveiled the Mission Master Cargo, an unmanned ground vehicle designed for either cargo and casualty evacuation or surveillance and reconnaissance. (Jane's)
Meanwhile, U.K. firm Horiba Mira unveiled the Centaur, a multi-role unmanned ground vehicle. (Jane's)
In a test, NASA conducted the first unaccompanied flight of a large drone equipped with autonomous sense-and-avoid technology in U.S. Class A public airspace. (Fast Company)
The U.S. Marine Corps completed testing of the Sensofusion AIRFENCE prototype, a counter-drone system. (UAS Weekly)
Surveying technologies firm Leica Geosystems unveiled the Leica Aibot, a 3D mapping drone based on the DJI M600 Pro hexacopter. (GIM International)
The European Maritime Safety Agency issued a tender for lightweight surveillance drones that can be launched from vessels. (TED eTendering)
Israeli firm BlueBird Aero Systems unveiled a cargo variant of its ThunderB lightweight fixed-wing drone. (Jane's)
Pipe inspection and repair firm Aquam Corporation unveiled the Amplus, a remotely operated vehicle for inspecting the interior of pressurized pipelines. (Unmanned Systems Technology)
The Australian Ministry of Defence has put out a call for proposals for technologies to make drones harder to detect. (Defence Connect)
French drone maker Elistair unveiled the Ligh-T V.3, a tethered surveillance multirotor drone. (Jane's)
Chinese firm Shengyang Aircraft published a photo showing what appears to be a scale model or prototype of its Dark Sword jet-powered combat drone. (AIN Online)
Meanwhile, Turkish media published a photo from a Baykar Makina production facility that appears to show the fuselage of the company's developmental Akinci combat drone. (Defense Blog)
Drones at Work

The Los Alamos National Laboratory in New Mexico is testing an undisclosed counter-drone system for use over various sensitive U.S. facilities. (Stars and Stripes)
Fire officials in Colorado are urging drone operators to steer clear of wildfire operations after an intruding drone temporarily shut down firefighting flights over a fire in Eagle County. (ABC 7 Denver)
A team from Harvey Mudd College used an autonomous unmanned undersea vehicle to discover a World War II fighter plane on the sea floor off the coast of Malta. (New Scientist)
A British Army Watchkeeper drone crashed near West Wales Airport. The Watchkeeper, a tactical reconnaissance and surveillance drone, has been involved in various crashes in recent years. (Cambrian News)
A team from University of California, Davis is using an unmanned ground vehicle disguised as a sage grouse to study sage grouse mating habits. (Digital Trends)  
ISIS released a propaganda video in which a drone bearing the group's logo flies over a number of World Cup facilities engulfed in flames. (Newsweek)
The French Navy has deployed a Schiebel S-100 Camcopter helicopter drone aboard the FNS Dixmude amphibious vessel. (Jane's)
Following a successful pilot program, Icelandic online retailer Aha announced that it will significantly expand its drone delivery routes in Reykjavik in the next two years. (BBC)
In an operation conducted with special permission from the U.K. Civil Aviation Authority, British firm Sensat flew a small fixed-wing drone at a distance of 29 km from the operator over East Sussex. (The Register)
Industry Intel
The U.S. Air Force awarded General Atomics Aeronautical Systems a $22.9 million contract modification for Lynx Block 20A synthetic aperture radar for the MQ-9 Reaper Block 5. (DoD)
The U.S. Navy awarded Northrop Grumman a $189 million contract for continued operations and maintenance support for RQ-4 Global Hawk BAMS-D, which serves as a placeholder until additional Navy MQ-4C Triton drones enter into service. (Aviation Week)
The U.S. Navy awarded Composite Energy Technologies a $41,000 contract for work on the Razor unmanned undersea vehicle. (FBO)
The U.S. Navy awarded Riptide Autonomous Solutions a $98,270 contract for a micro unmanned undersea vehicle for deep-water exploration. (FBO)
The U.S. Navy awarded Insitu, a Boeing subsidiary, a $960,000 foreign military sales contract for spare and sustainment parts for the ScanEagle drone for the government of Lithuania. (FBO)
The U.S. Department of Interior selected a team led by Bridger Aerospace to provide contractor-owned and contractor-operated drones to support a variety of missions. (Press Release)
Kratos Defense and Security Solutions announced that it has been awarded a $10.2 million contract from a U.S. Government agency for unmanned systems. (Press Release)
DroneShield announced that it has been awarded a $3.2 million contract for 70 counter-drone DroneGuns from an undisclosed government in the Middle East. (Press Release)
MicroPilot, a Canadian company that builds autopilots for drones, received a $2 million donation for work on software that will enable drones to operate safely over cities. (GPS World)
Australia's Propeller Aeronautics raised $10 million in a Series A funding round led by Blackbird Ventures and Sequoia China. (Mining Journal)
The Australian Army will spend approximately $2 million to acquire four unmanned ground vehicles from Praesidium Global for testing. (Army Technology)
In a press conference, Bulgarian Prime Minister Boyko Borissov expressed interest in establishing a domestic facility that could produce Israeli drones. (Reuters)
India's Defence Research and Development Organisation announced that its Rustom-2 surveillance and reconnaissance drone will be ready for deployment in 2020. (The Times of India)
Spain's Ministry of Defense placed orders for additional Thales Fulmar reconnaissance drones for the army and marines. (Jane's)
In a press conference, a Russian military official said that in 2017 Russia's fleet of drones grew by 10 percent, reaching over 2,200 unmanned aircraft. (Jane's)
Mobile firm Huawei has partnered with Unifly to develop a traffic management system for drones based on cellular phone technology and SIM cards. (Aviation International Online)
Commentary, Analysis, and Art
At the New York Times, Eyal Press explores the psychological and moral stress experienced by some U.S. military drone pilots and imagery analysts.
A report by the RAND Corporation looks at how the proliferation of strike-capable drones has undermined the effectiveness of international controls on missile proliferation.
A study by the U.S. National Academies of Sciences, Engineering, and Medicine concluded that the Federal Aviation Administration's approach to integrating drones into the national airspace is overly cautious. (StateScoop)
At Wired, Jack Stewart writes that a consumer drone helped police in the town of Ensenada, Mexico reduce crime by 10 percent.
Also at Wired, Tom Simonite writes that a U.S. startup working on Project Maven, a U.S. military artificial intelligence program, was hacked by assailants in Russia.
At C4ISRNET, Kelsey Atherton visited the Western National Robot Rodeo, a competition designed to advance the capabilities of robots for bomb-disposal and other missions.
At Military & Aerospace, John Keller looks at how the U.S. Navy and DARPA are working on an advanced new propulsion system for unmanned undersea vehicles.
At Axios, Rachel Stohl argues that the Trump administration has made U.S. drone strike policy looser and less transparent.
At Aviation Week, Graham Warwick looks at the growing interest in the U.S. and Russia for unmanned tanker and transport aircraft.
At National Defense magazine, Vivienne Machi considers how new Patroller drones will enhance the French Army's tactical surveillance and reconnaissance capabilities.
At Bloomberg, Blake Schmidt writes that drone swarms have replaced fireworks in China after Beijing banned pyrotechnics in order to reduce pollution.
Also at Bloomberg, Paul Scharre discusses the reasons behind the U.S. military's program to use artificial intelligence to analyze imagery from drones.
At the Fort Myers News-Press, David Dorsey looks at how misperceptions about commercial drones and privacy sparked a tense incident in Florida. Center for the Study of the Drone co-director Arthur Holland Michel was interviewed for this story.
At Trucks.com, Cyndia Zwahlen describes various projects that are exploring how to use drones to transport shipping containers.
In his photo series "Flatlands," artist Aydin Buyuktas uses a drone to photograph a landscape from various different angles, creating a surreal distorted perspective. (CNN)
For updates, news, and commentary, follow us on Twitter.
[includeme file="tools/sympa/drones_sub.php"]