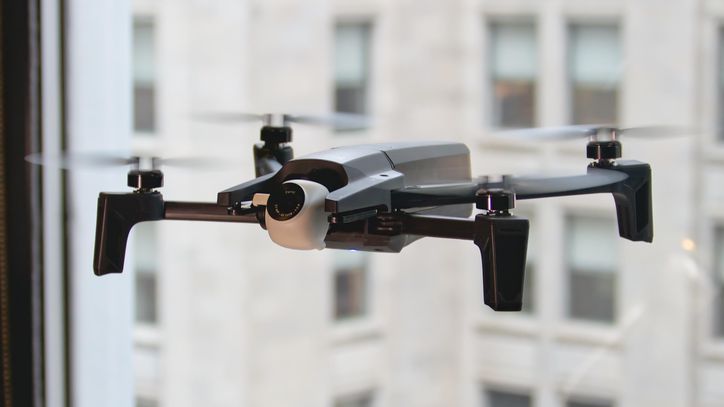 June 4, 2018 – June 10, 2018
If you would like to receive the Weekly Roundup in your inbox, please subscribe at the bottom of the page.
Top Stories
The Dubai Civil Aviation Authority is implementing a system for tracking civilian drones in its airspace by requiring all drones to carry a small electronic tracker. The Skytrax system will detect when drone operators fly within manned aviation flight paths. (CNN)
French drone maker Parrot unveiled the Anafi, a folding consumer quadcopter drone equipped with an HD camera. Parrot has previously produced a number of popular hobby drones. (Digital Trends)
Verity Studios, a Swiss firm that provides drone shows and entertainment, raised $18 million in a Series A round led by Fontinalis Partners. Verity Studios' drones have previously been used by Cirque de Soleil and Madison Square Gardens, among others.  (Press Release)
Know Your Drone
U.S. Marine Corps officials announced that the service's MUX ship-launched drone might not have a weapons capability. (Military.com)
The Armed Forces of Belarus unveiled a quadcopter equipped with a rocket-launcher. (C4ISRNET)
A team of researchers from India and the U.K. has developed a cloud-based computer vision system capable of detecting violence in aerial drone footage. (The Verge)
Italian firms Piaggio and Leonardo announced that they are jointly developing a new version of the P.1HH HammerHead medium altitude long-endurance drone. (FlightGlobal)
In a demonstration for NATO, Rafael Advanced Defense Systems used an unmanned surface vessel to launch a simulated missile attack against a hostile vessel. (Unmanned Systems Technology)
Airbus Helicopters announced that it will conduct the first unmanned flight demonstration of its Optionally Piloted Vehicle later this month. (Jane's)
FLIR Systems unveiled the Black Hornet 3, a nano surveillance drone that can operate in GPS-denied areas. (Jane's)
Drone maker UAVOS unveiled a new rotor blade system for large helicopter drones. (Shephard Media)
Russian firms SV Ilyushin and Kronstadt Group have announced a partnership to jointly develop a cargo drone. (Press Release)
Israel Aerospace Industries has unveiled a border surveillance system that combines an unmanned ground vehicle with a fixed-wing drone. (Times of Israel)
The Indian Navy has issued requests for information for an unmanned underwater vehicle and an unmanned surface vehicle. (Shephard Media)
Drones at Work
Chinese drone maker DJI announced that drones were used to save human lives in three separate operations on a single day, May 31. (DroneLife)
The Beak & Skiff Apple Orchard in New York State used drones to pollinate an entire apple orchard. (Digital Trends)
The U.S. Marine Corps is launching a program to certify Marine Unmanned Aerial Vehicle Squadron crews to operate the MQ-9 Reaper in preparation for the service's acquisition of a ship-launched drone in the 2020s. (USNI News)
Russian state-owned bank Sberbank announced that it is acquiring the Russian Helicopters VRT300 helicopter drone for transporting cash and other valuables. (Shephard Media)
The National Geographic Society awarded three companies grants to use drones to combat illegal fishing. (VOA News)
Aerial cinematography firm Cinematic Aerospace conducted the first approved commercial drone flight over John F. Kennedy International Airport in New York. (DroneLife)
DriveOhio's UAS Center and the Ohio State University College of Engineering have launched a program to use drones to monitor road conditions along Ohio's 33 Smart Mobility Corridor. (Press Release)
Aerospace firm Airbus is establishing a test facility for its Zephyr high-altitude pseudo-satellite at Wyndham Airport in Western Australia. (Jane's)
The Polish military announced that it has conducted the first combat exercise of its Warmate loitering munition drone. (Shephard Media) For more on loitering munitions, click here.
The Jeddah Hilton used a fleet of drones to parade outfits for a runway show as part of Saudi Arabia's first fashion week. (CNN)
The U.S. Navy formally inducted the MQ-4C Triton high-altitude long-endurance reconnaissance drone into service with the Unmanned Patrol Squadron (VUP)-19 at Naval Base Ventura County in Point Mugu, California. (The Aviationist)
Industry Intel
The U.S. Coast Guard awarded Boeing subsidiary Insitu a $117 million contract for contractor-operated ScanEagle drones for its National Security Cutters. (Jane's)
Meanwhile, the U.S. Navy awarded Insitu a $1 million contract for spare and sustainment parts for the ScanEagle for the Kenyan government. (FBO)
The U.S. Navy awarded Six3 Advanced Systems a $48.6 million contract to work on counter-drone technologies. (DoD)
The U.S. Army awarded Robotic Research a $49.7 million contract for work on the leader-follower autonomous transport vehicle program. (Press Release)
Boeing's HorizonX Ventures will join a $5 million seed funding round for Kitty Hawk, a startup that is designing a system for managing autonomous drone operations. (GeekWire)
3DR selected Uplift Data Partners, a network of certified drone operators, as its preferred drone services provider. (Unmanned Aerial)
GE has launched a new company called AiRXOS that will focus on developing a traffic management system for drones. (The Drive)
Chinese drone manufacturer DJI partnered with Axon, a U.S. company that makes a range of policing technologies, including tasers, to sell drones to law enforcement agencies. (Slash Gear) For more on public safety drones, click here.
Airbus has partnered with Wilhelmsen Ships Service to test a ship-to-shore drone delivery system. (Ship Technology)
UNICEF is offering grants of up to $100,000 for startups that use drones in ways that "have the potential to benefit humanity." (Campus Varta)
Israeli drone maker Aeronautics acquired Chassis Plans, a U.S. manufacturer of ruggedized computers. (Jane's)
The U.S. Federal Communications Commission has proposed fining HobbyKing nearly $3 million for selling noncompliant first-person view systems for drones. (Law360)
Commentary, Analysis, and Art
A report by the Stimson Center offers a series of recommendations to the U.S. administration for the use and export of armed drones.
The U.S. Senate Appropriations Committee criticized the Trump administration for allocating funds to the FAA's UAS Integration Pilot Program without consulting the committee. (Drone Life)
The U.S. Senate Homeland Security and Governmental Affairs held a hearing on rogue and malicious drone use in domestic airspace. (Roll Call)
New Zealand firm Airways has published a survey of over one thousand drone users in New Zealand. (We Talk UAV)
At the Electronic Frontier Foundation, India McKinney and Andrew Crocker question whether the U.S. government needs additional authorities to track and disable rogue drones.  
At Slate, April Glaser writes that the DJI-Axon partnership raises concerns about how law enforcement agencies might use drones.
At The Drive, Tyler Rogoway looks at what a recent photo of China's Dark Sword reveals about this futuristic combat drone.
At Jane's, Richard Scott writes that a U.K. Royal Navy unmanned minesweeping program is demonstrating the possibilities for the application of autonomy on the battlefield.  
At C4ISRNET, Pierre Tan profiles a counter-drone system that the French military could soon add to its inventory.  
At the Associated Press, Matt O'Brien looks at how Boston Dynamics is seeking to begin offering dog-like robots for commercial security applications.  
The U.S. National Institute of Standards and Technology has published forensic images of 14 popular consumer drones for forensic investigators to practice on as training for real forensic investigations. (Phys.org)
At La Tribune, Michel Cabirol writes that the French military is seeking to develop large unmanned ground vehicles for casualty evacuation and equipment transport.  
At The Atlantic, Geoff Manaugh profiles the Los Angeles County Sheriff's drone program.
At Lawfare, Aqil Shah questions whether U.S. drone strikes had an impact on popular support for the Taliban within Pakistan.
At The Aviationist, Tom Demerly recalls the history of the Cold War-era D-21, a supersonic reconnaissance drone.
For updates, news, and commentary, follow us on Twitter.