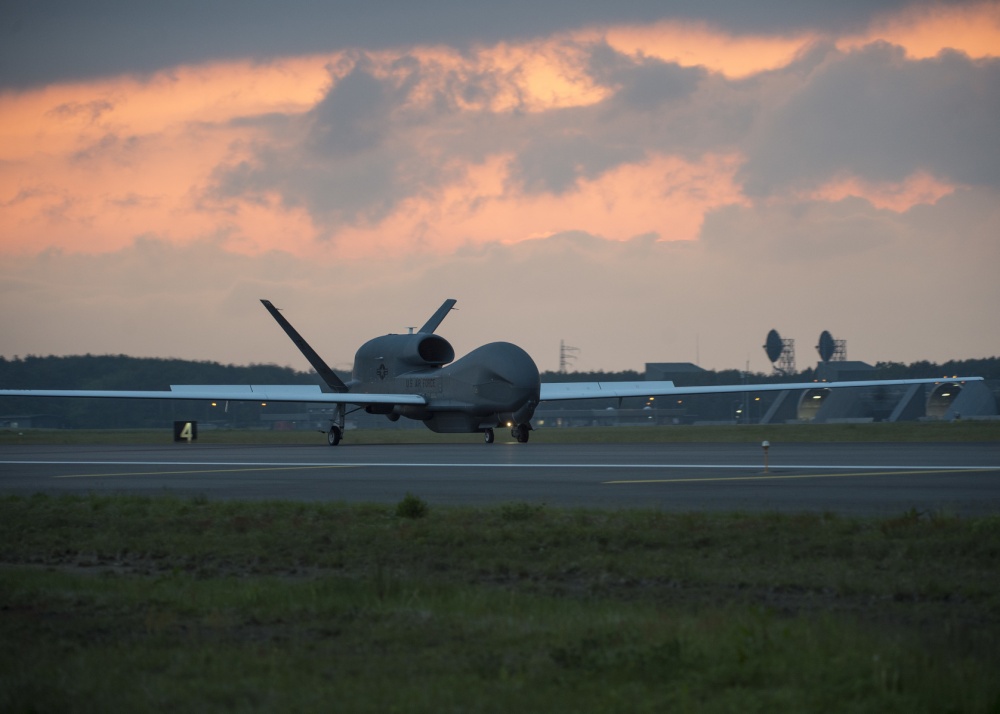 May 28, 2018 – June 3, 2018
If you would like to receive the Weekly Roundup in your inbox, please subscribe at the bottom of the page.
At the Center
The Associated Press has reported on last week's Center for the Study of the Drone study on the growing use of drones among U.S. public safety agencies. The report found that more than 900 agencies have acquired drones to date, a sharp increase over previous tallies. To read the report, click here.
In a video for Time Magazine, Center for the Study of the Drone co-director Arthur Holland Michel discusses the ways in which drones are transforming filmmaking.
Top Stories
The U.S. Air Force announced that it will deploy an unspecified number of MQ-9 Reaper drones to Poland. In a statement, the Air Force said that the drones will be based at Miroslawiec Air Base and will be used to "promote security and stability within the region." The Polish government plans to turn Miroslawiec Air Base into a test site for future unmanned aircraft. (Jane's)
Google announced that it does not intend to renew a contract with the U.S. military for work on Project Maven, a program that seeks to use artificial intelligence to interpret video imagery from drones. Approximately 4,000 Google employees had signed a petition calling for the company to step back from the contract. (The New York Times)
The U.K. has issued new temporary regulations governing hobbyist and commercial drone operations. The new laws make it illegal to fly a drone above 400 feet and within one kilometer of an airport. (TechCrunch)
Know Your Drone
In a test, Israeli firm Tactical Robotics' Cormorant cargo drone conducted a successful autonomous medical evacuation demonstration. (FlightGlobal)
Researchers from the University of Bologna and ETH Zurich have developed what they claim to be the smallest autonomous rotor drone to date. (Fast Company)
The Indian Navy issued requests for information for a fleet of unmanned surface vessels and autonomous unmanned undersea vehicles. (Jane's)
Beihang Unmanned Aircraft System Technology announced that it is developing a cargo drone capable of carrying up to one and a half tonnes of payload. (Shephard Media)
Russian aerospace officials have confirmed that the Katran drone helicopter will begin air trials within the next few months. (Jane's)
The U.S. Navy and a team from Florida Atlantic University are developing an autonomous unmanned boat prototype that can launch a range of aerial drones and unmanned undersea vehicles. (Defense One)
Alibaba subsidiary Cainiao is testing a ground delivery robot equipped with an advanced LIDAR navigation system. (MIT Technology Review)
Chinese firm Poly Technologies unveiled the LANU-M1, a vehicle-mounted counter-drone system. (Jane's)
China's Yunzhou Tech Corporation released a video of a test in which 56 unmanned boats operated in a swarm formation. (War is Boring)
Kazakhstani firms Robotron Aspandau and New Tech Distribution unveiled an armed unmanned ground vehicle called the Karakurt. (Jane's)
At a robotics convention outside of Moscow, Russia's leading drone manufacturers exhibited an array of drone airframes and components. (BMPD)
U.S. drone maker General Atomics Aeronautical Systems conducted the first ground test of the turbofan engine that it intends to use for its submission for the Navy's MQ-25 Stingray refueler drone competition. (FlightGlobal)
Researchers at Aix-Marseille Université have developed a drone that can change its shape in mid-flight in order to pass through tight spaces. (Futurism)
Japanese firm Asahi Power Service is developing an umbrella drone that autonomously follows the operator's head to keep them shielded from the elements. (TechRadar)
Drones at Work
Intel flew a swarm of nearly 1,000 drones in a formation for this month's TIME magazine cover. (TIME)
Chinese food delivery firm Ele.me has been granted permission to conduct drone deliveries along 17 routes in an industrial park in Shanghai. (BBC)
Emergency responders in Hawai'i used a drone operated by the U.S. Geological Survey to guide a man who had become trapped by a lava flow to safety. (ABC11)
The Kansas Department of Transportation has launched a pilot project to explore the use of drones to assist in road design. (Associated Press)
The U.S. National Oceanic and Atmospheric Administration, the Hawaiian Islands Humpback Whale National Marine Sanctuary, and Oceans Unmanned are testing how to use drones to provide aerial imagery for teams working to disentangle whales caught in marine debris. (Digital Trends)
A field study by a team of scientists from various German research institutions has concluded that drones can be used to measure particle formations in ground-level air layers in the Arctic, which could shed light on climate change in the region. (Phys.org)
The Australian Army has begun deploying the PD-100 Black Hornet nano drone with its 20th Surveillance Target Acquisition Regiment. (Australian Aviation)
A California man has been cited for operating a drone over an active lava flow in Hawai'i. (KHON2)
The U.S. Air Force Special Operations Command is moving an MQ-9 Reaper squadron to Hurlburt Field in Florida. (WJHG)
Industry Intel
The U.S. Army awarded Raytheon a $11 million contract modification for eight common sensor payloads for the MQ-1C Gray Eagle. (DoD)
The U.S. Army awarded FLIR Systems a $2.6 million contract for Black Hornet drones for the Soldier Borne Sensor program. (Vertical Magazine)
Flock, a U.K. startup that offers short-term insurance for drone users, raised $3 million in a seed funding round led by Anthemis Group. (siliconANGLE)
Commentary, Analysis, and Art
A special report in TIME magazine explores the many facets of the ongoing drone revolution, with articles on subjects such as drone deliveries, drone threats, and the history of aerial photography.
At Defense News, Sebastian Sprenger looks at the conditions that Germany is seeking meet before it moves forward with acquiring a fleet of Northrop Grumman Triton surveillance drones.
Meanwhile, at Deutsche Welle, Ben Knight breaks down Germany's contract to lease IAI Heron drones from Israel.
At Ozy, Ben Halder writes that China has embraced drones, robots, and artificial intelligence as tools for law enforcement.
At USNI News, Megan Eckstein looks at how the U.S. Navy intends to move forward with the development of unmanned systems following the publication of a new roadmap.
Meanwhile, at C4ISRNet, Kelsey Atherton offers three takeaways from the Navy's roadmap for unmanned systems.
At the New York Times, Scott Shane, Cade Metz, and Daisuke Wakabayashi consider how a contract for Project Maven prompted an identity crisis at Google.
An article by the China Power project at the Center for Strategic and International Studies summarizes China's push to develop and export drones.  
At IEEE Spectrum, Eliza Strickland looks at how the Vanuatu islands in the South Pacific are ready to begin drone deliveries of essential vaccines.
A report by PwC predicts that the drone industry in the U.K. could add hundreds of thousands of jobs and raise GDP by 2 percent. (The Guardian)
At Bloomberg, Blake Schmidt looks at how several Chinese startup companies are building a host of unmanned surface vehicles.
At Defense One, Patrick Tucker writes that the U.S. Navy is exploring ways of using unmanned undersea vehicles for coastal defense.
At Forbes, Mfonobong Nsehe looks at how a Romanian entrepreneur is seeking to become a leading distributor of drones in central Africa.
At The Baltimore Sun, Jerry Jackson reflects on how the paper has used drones for reporting over the past year.
For updates, news, and commentary, follow us on Twitter.