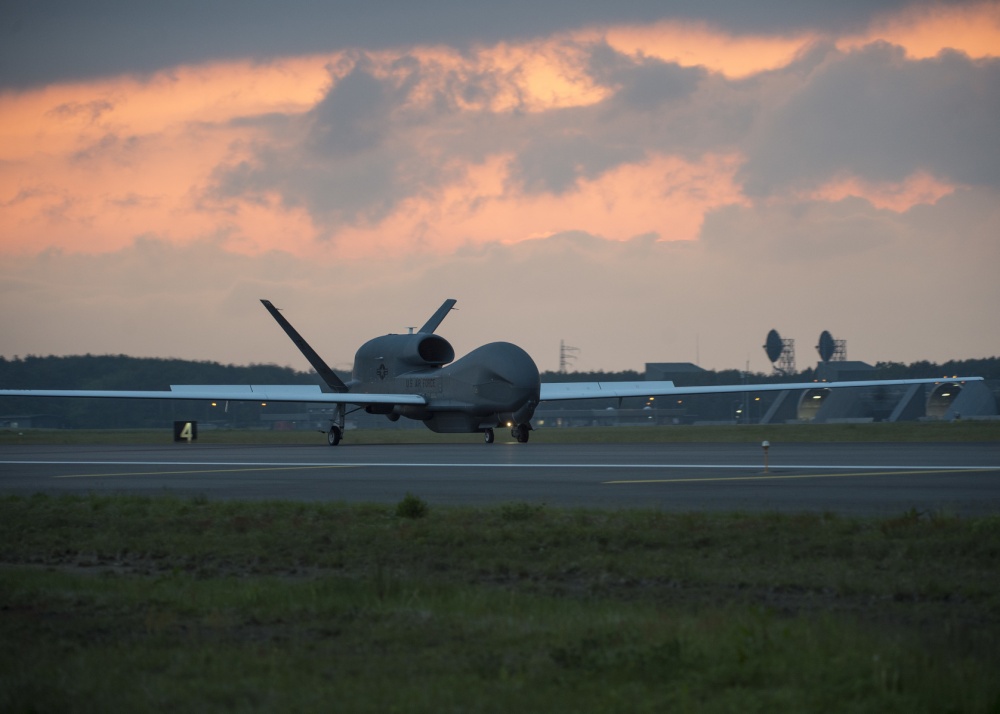 June 17, 2019 – June 23, 2019
If you would like to receive the Weekly Roundup in your inbox, please subscribe at the bottom of the page.
Top Stories
Iran shot down a U.S. Navy RQ-4 Global Hawk high-altitude surveillance drone with a surface-to-air missile over the Strait of Hormuz. U.S. officials disputed Iran's claim that the aircraft had entered Iranian airspace, saying that the drone, which is also known as the Broad Area Maritime-Demonstrator, was conducting a routine patrol in international skies. President Trump called off a planned retaliatory strike that he had ordered following the shoot-down, declaring that it was not a "proportionate" response. This marks the first time a Global Hawk has been shot down and the second U.S. drone downed in the region this month. (Associated Press)
Extinction Rebellion, a climate change activism group, announced that it does not intend to stage any actions involving drones at London's Heathrow Airport this summer. Las month, the group indicated that it was planning to use drones to disrupt air traffic to protest the construction of a third runway at the airport. In a statement, the Extinction Rebellion said that it did not wish to place aircraft at risk. (Reuters)
The U.S. Air Force is considering purchasing an additional 20 to 30 XQ-58A Valkyrie drones. The Kratos Defense Valkyrie is a low-cost, long-range, high-subsonic drone designed to operate autonomously in contested environments. The Air Force announced last week that it conducted the Valkyrie's second flight demonstration on June 11 at Yuma Proving Ground. (DefenseNews)
Know Your Drone
Italian defense firm Leonardo unveiled the Falco Xplorer, a medium-altitude long-endurance military drone. (FlightGlobal)
The U.S. Army announced plans to request information from industry for autonomous manned-unmanned teaming technologies to increase the capabilities of infantry platoons. (FBO)
Israeli firm General Robotics unveiled the DOGO, a small remote-controlled combat robot armed with a handgun. (DefenseNews)
The U.S. Marine Corps is testing the Compact Laser Weapons System, the Pentagon's first ground-based laser, for shooting down drones. (UPI)
Belarusian firm KB Display unveiled the Kvadro-1600 and the Soaring Tube, two armable multirotor drones. (Jane's)
Amazon has been granted a patent for a system that would enable its delivery drones to provide surveillance services for homeowners. (The Verge) For more on Amazon's drone patents, click here.
French firm Safran Electronics & Defense announced that it has entered the final phase of testing and certification for its Patroller fixed-wing surveillance and reconnaissance drone. (Unmanned Systems Technology)
Aviation Industry Corporation of China announced that it completed the first nighttime operation of its AV500 military helicopter drone. (Global Times)
The U.S. Air Force has postponed its efforts to develop an air-to-air missile capability for the MQ-9 Reaper, a long-endurance strike drone. (Air Force Magazine)
A team from Duke University is developing a system for detecting and identifying rogue drones delivering contraband to prisons under a collaborative initiative with the North Carolina Department of Public Safety. (Press Release)
French firm iXblue unveiled the SEADRiX, an unmanned surface vessel for anti-submarine warfare operations. (Naval News)
Students at Vietnam National University-Ho Chi Minh City have developed two new low-cost unmanned systems, an unmanned surface vessel and a crop-spraying drone. (Tuổi Trẻ)
Drones at Work
Singapore's Changi airport halted flights to and from one of its runways after a drone was spotted operating in the area. (FlightGlobal)
The U.S. Army's Howler counter-drone system, which consists of a radar and an interceptor drone, has achieved Initial Operational Capability. (Unmanned Systems Technology)
The team behind Boaty McBoatface, a British unmanned research submarine, announced that the underwater drone collected valuable data for climate change research on its maiden voyage in 2017. (NBC News)
In a test, the U.K. Royal Navy's HMS Northumberland shot down a series of drones with its Sea Ceptor missile system. (Press Release)
Drone maker Elistair announced that Spanish Police used its tethered surveillance drone system during the UEFA Champions League final earlier this month. (Inside Unmanned Systems)
The city of Ashland, Oregon is exploring the possibility of acquiring a drone equipped with an infrared camera for use during wildfires. (NBC 52) For more on public safety drones, click here.
Japanese e-commerce firm Rakuten and supermarket chain Seiyu announced a joint three-month drone delivery project to supply visitors to the uninhabited Sarushima island. (Asahi Shimbun)
The Osaka prefectural government in Japan has issued a temporary ban on drone operations in the area during the upcoming G20 summit. (The Telegraph)
Industry Intel
The French Defense Procurement Agency awarded drone maker Novadem a contract for more than 50 NX70 small multi-rotor drones for the army. (Jane's)
The U.S. Air Force awarded General Atomics Aeronautical Systems a $90.9 million foreign military sales contract for contractor logistics support for the U.K.'s MQ-9A Reaper program. (DoD)
The U.S. Navy awarded SR Technologies a $12.4 million contract for information operations payloads for drones operated by the Navy and Special Operations Command. (DoD)
The U.S. Defense Advanced Research Projects Agency awarded Northrop Grumman a $9.9 million contract modification to build and test a payload delivery system for future Extra Large Unmanned Undersea Vehicles. (Military & Aerospace Technology)
Houma-Terrebonne Airport in Louisiana was awarded a $1.35 million federal grant to develop infrastructure for drone operations for the oil and gas industry. (Houma Today)
AirMap, a U.S. company that provides drone traffic management software and services, has signed a strategic agreement with defense contractor Raytheon. (droneLife)
Counter-drone firm Black Sage has partnered with Raytheon to develop a drone detection and mitigation system for civilian and military users. (droneLife)
Black Swift Technologies announced that it has been awarded a contract by the U.S. National Oceanic and Atmospheric Administration to develop a drone for tracking storms. (UnmannedAerial.com)
The Ukrainian military has acquired an unknown number of JSC Meridian Spectator-M1 drones. (Interfax Ukraine)
Safran Electronics & Defense has partnered with Hensoldt Optronics and Mades to provide an electro-optical sensor for the EuroMale drone. (Press Release)
BAE Systems will provide flight control and enemy aircraft identification systems for Boeing's MQ-25 Stingray. (Shephard Media)
Airbus has partnered with the Hauts-de-France region to study potential uses for delivery drones. (Unmanned Systems Technology)
Eramet, a multinational mining and metallurgy firm based in France, has partnered with French drone firm Delair to use drones and data analytics to map mines. (Press Release)
Commentary, Analysis, and Art
At Lawfare, Ashley Deeks and Scott R. Anderson consider the domestic and international legal implications of the Global Hawk shoot-down.
At Time Magazine, Tara Law offers a breakdown of of Iran's downing of a U.S. RQ-4 Global Hawk. Center co-director Dan Gettinger provided commentary for this story. 
At DefenseOne, Patrick Tucker writes that a majority of the U.S. military's drones are vulnerable to advanced air defenses, and explains how this came to be.
At DefenseNews, Kelsey D. Atherton considers how drone shoot-downs affect conflict escalation dynamics.
Also at DefenseNews, Sebastian Sprenger writes that General Atomics is seeking to expand its European customer base.
In a U.S. Senate hearing, panelists testified that the near-monopoly of Chinese drone maker DJI is a potential security risk. (Aviation Week)
The Economist examines the potential effects of Extinction Rebellion's now-postponed plans to use drones to cause air travel delays at Heathrow Airport. Center co-director Arthur Holland Michel provided commentary for this story.
In an analysis, the Thomson Reuters Foundation explains that the rise of delivery drones has renewed a debate in the U.S. over regulatory control of the airspace.
At The Wall Street Journal, Katy McLaughlin looks at the ways in which drones could threaten the privacy of wealthy homeowners, and describes how these individuals are looking to protect themselves. Center co-director Arthur Holland Michel provided commentary for this story.
At droneLife, Malek Murison considers the reasons why DJI has not released a new consumer drone so far this year.
DRONEII and HINTE Marketing released the second annual edition of the Drone Industry Barometer, a whitepaper based on data from more than 500 respondents in 74 countries. (Unmanned Systems News)
At Seapower, Otto Kreisher writes that Congress appears to be skeptical of the U.S. Navy's ambitious plans for unmanned maritime vehicles.
In an interview at Robotics Business Review, iRobot co-founder Colin Angle reflects on his experience leading a robotics startup. At Shephard Media, Richard Thomas writes that the market for military-grade helicopter drones is set for a major expansion.
For updates, news, and commentary, follow us on Twitter.