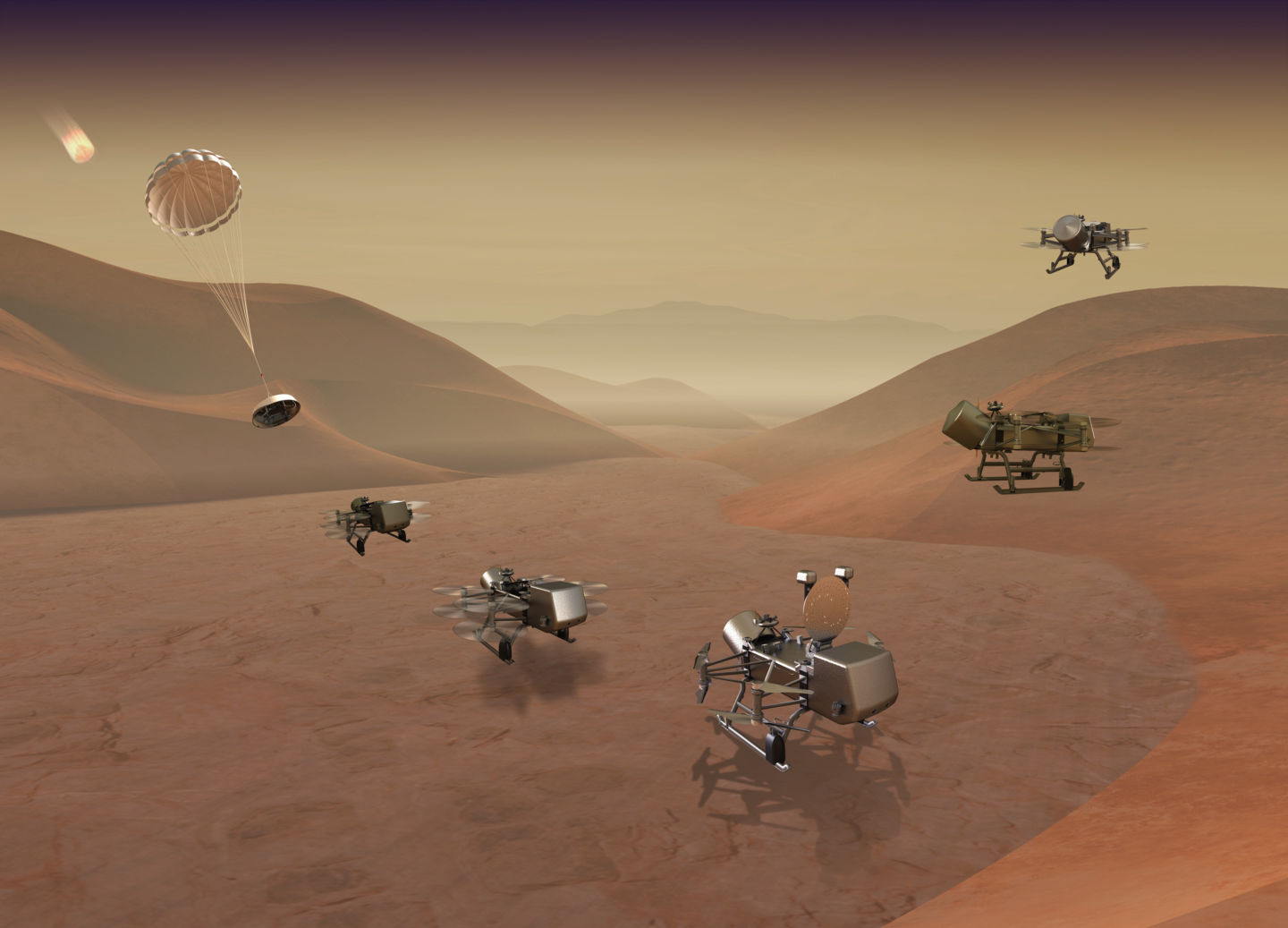 June 24, 2019 – June 30, 2019
If you would like to receive the Weekly Roundup in your inbox, please subscribe at the bottom of the page.
Top Stories
Chinese drone maker DJI announced that it will begin manufacturing drones in the U.S. and will start offering models equipped with additional security features. The initiative comes at a time when the company is facing scrutiny from the U.S. government and lawmakers over concerns that the widespread use of Chinese-made drones could pose a risk to national security. (The New York Times)
NASA announced that it will send a drone to explore the surface of Titan, one of Saturn's moons. Roughly the size of the Mars rover, the eight-rotor Dragonfly will carry a suite of scientific instruments. The mission is expected to launch in 2026 and reach Titan by 2034. (The New York Times)
Drone sightings at Singapore's Changi Airport resulted in several delayed flights for the second time in less than a week. In a statement, the Civil Aviation Authority of Singapore said that one of the airport's two runways was closed for "short periods of time" due to drone activity. Poor weather also contributed to the delays. (CNN)
Know Your Drone
The U.S. Air Force unveiled the Tactical High Power Microwave Operational Responder (THOR), a prototype directed-energy weapon for countering drone swarms. (Task & Purpose)
Russia's Luch Design Bureau unveiled the Korsar, a medium-altitude long-endurance surveillance and reconnaissance drone. (Jane's)
French firm Thales unveiled the Spy Ranger 550, a small fixed-wing surveillance drone. (Shephard News)
Kalashnikov subsidiary Zala Aero Group unveiled two loitering munition drones, the Lantset-1 and Lantset-3. (Jane's) For more on loitering munitions, click here.
Meanwhile, Taiwan's military unveiled an anti-radiation loitering munition drone. (Shephard News)
Spanish telecom firm Telefónica and several partners are developing a drone-based system for detecting wildfires. (Unmanned Systems Technology)
China's National Defense University of the People's Liberation Army and China Aerospace Science and Technology Corporation conducted a successful delivery test flight with its Feihong-98, a large unmanned cargo aircraft. (Global Times)
The U.S. Army has launched an effort to retrofit its Stinger air defense missiles with proximity fuses for better countering adversary drones. (Unmanned Systems Technology)
Drone Delivery Canada announced a successful series of initial live tests of its automated defibrillator delivery drone system. (Commercial Drone Professional)
Russian firm Military Innovation Technopolis ERA unveiled a surveillance drone disguised to look like an owl. (Military Times)
Drones at Work
The U.S. Department of Defense said that it will not ramp down drone operations in the Gulf following Iran's downing of one of its Global Hawk high-altitude surveillance and reconnaissance drones. (DefenseNews)
The Baykar Makina Bayraktar TB2, a Turkish surveillance and strike drone, has passed 100,000 flight hours in operations. (Daily Sabah)
The European Maritime Safety Agency has begun surveillance flights with the Hermes 900 patrol drone. (Unmanned Systems Technology)
German defense firm Rheinmetall announced that its Mission Master – Protection armed unmanned ground vehicle participated in the Ammunition Capability Demonstration 2019 live fire exercise in South Africa. (Unmanned Systems Technology)
An official investigation found that the crash of a Swiss Post medical delivery drone in May was caused by the flight termination system and a malfunction of the emergency parachute tether. (Swissinfo.ch)
South Korea's military announced that it has opened seven new drone training centers throughout the country. (The Korea Bizwire)
The U.S. Army is preparing to deploy its first infantry battalion equipped with micro-drones. (Stars and Stripes)
The city of Pendleton, Oregon has launched a project to measure the economic impact of its local drone test range. (My Columbia Basin)
Emergency response teams are using a multirotor drone to aid in the efforts to combat the Woodbury Fire in Arizona. (Fox 10)
The town council of Tiburon, California has voted to approve an ordinance banning the use of drones over city schools and events without prior permission. (The Ark)
Industry Intel
The U.S. Army awarded General Atomics Aeronautical Systems a $21.9 million contract modification for logistics support services for the MQ-1C Gray Eagle. (DoD)
The U.S. Army awarded General Atomics Aeronautical Systems an $80 million contract for logistics support for the MQ-1C Gray Eagle. (DoD)
The U.S. Army awarded General Atomics Aeronautical Systems a $7.6 million contract to upgrade its fleet of Warrior Alphas to Gray Eagles. (DoD)
The U.S. Army intends to award Aeryon Defense a contract for two SkyRaider multi-rotor drones. (FBO)
The U.S. Navy awarded Raytheon a $16.1 million contract modification for seven MTS-B AN/DAS-3 sensor systems for the MQ-4C Triton. (DoD)
The U.S. Navy awarded Insitu a $390.4 million indefinite-delivery/indefinite-quantity contract for up to 63 RQ-21A Blackjack attrition air vehicles for the Navy and Marines, up to 17 RQ-21A Blackjack aircraft for foreign military sales customers, and up to 93 ScanEagles. (DoD)
The U.S. Air Force intends to award a contract DJI Phantom 4, Phantom 4 Pro, and Mavic drones, most likely for testing counter-drone systems. (Jane's)
Envitia announced that it will provide an autonomous underwater vehicle to the U.K.'s Royal Navy. (Unmanned Systems Technology)
The U.S. National Oceanic and Atmospheric Administration intends to award Aerial Imaging Solutions a contract for the APH-28 drone. (FBO)
AeroVironment reported a 17 percent year-over-year revenue growth driven by growing demand for its suite of military drones. (Jane's)
The Drone Racing League is attempting to raise $50 million from investors in a Series C round. (TechCrunch)
James Murdoch has reportedly invested in a seed round of UBIQ Aerospace, a Norweigian drone startup. (Bloomberg)
Commentary, Analysis, and Art
At Jane's, Jeremy Binnie writes that Iran's shootdown of a U.S. Global Hawk demonstrates Iran's advanced air defense capabilities.
At the Sana'a Center for Strategic Studies, Farea al-Muslimi argues that U.S. counterterrorism operations in Yemen bolster local support for al-Qaeda.
At USNI News, Ben Werner looks at a new U.S. Navy program to train drone pilots.
At the Drone Girl, Sally French looks at the ways in which drones can be used in warehouses to count inventory.
An official at the U.K.'s National Air Traffic Services bureau issued a public apology after describing drone operators as "clueless, careless, and criminal" at a Parliamentary hearing. (Commercial Drone Professional)
In an op-ed at The Wall Street Journal, Taylor Dinerman argues that the U.S. military should take steps to better protect drones from attacks.
For updates, news, and commentary, follow us on Twitter.