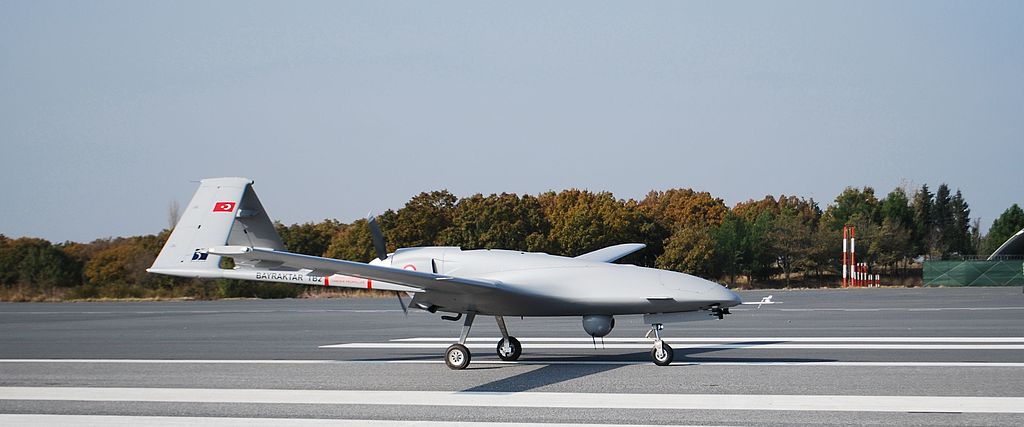 July 1, 2019 – July 7, 2019
If you would like to receive the Weekly Roundup in your inbox, please subscribe at the bottom of the page.
Top Stories
Libyan forces allied with Khalifa Haftar said that they destroyed a Turkish drone in an airstrike in Tripoli. In a statement, the group said that the drone was parked at Mitiga airport. Turkey has previously supplied arms to the Government of National Accord, which is fighting Haftar for control of the country. (Reuters)
The Los Angeles Police Department is seeking to formalize and expand its drone program. In a letter to the city's Police Commission, the LAPD said that it is seeking to permanently add drones to the department inventory and requests funds to acquire a more advanced type of system. The LAPD has faced public criticism for the program in the past. (Los Angeles Times) For more on public safety drones, click here.
Danish authorities have charged three men with allegedly buying drones for combat use by the Islamic State in Syria and Iraq. According to the prosecutor for the case, the individuals acquired components that "could have become powerful weapons for terrorists." The trial is scheduled to begin in September. (Associated Press)
Know Your Drone
Russian firm Avtomatika Concern unveiled the Sapsan-Bekas, a mobile counter-drone system. (Jane's)
A team at Harvard University has developed a new micro-drone, the RoboBee X-Wing, that weighs just 259 milligrams. (New Scientist)
The Thai Naval Research and Development Office unveiled the Narai 3.0, a multirotor data collection drone of which it has already produced at least 80 units. (Shephard Media)
A joint team from CINVESTAV and Intel, have developed an onboard navigation system that enables small drones to autonomously negotiate complex environments. (C4ISRNET)
NASA is preparing to launch a new series of flight tests for a set of lightweight sense-and-avoid sensors for unmanned aircraft. (New Atlas)
The Russian Airborne Forces are conducting live trials of the Design Bureau Aurora Mars A-800 cargo unmanned ground vehicle. (Jane's)
Russia's military unveiled plans to develop four new nuclear-powered submarines capable of carrying its Poseidon thermonuclear torpedo drone. (The National Interest)
At an exhibition in China, a multirotor drone was demonstrated dropping thousands of caltrops—a type of anti-personnel device. (C4ISRNET)
A team at Fraunhofer EMI is conducting high speed drone collision tests to develop standards for studying the potential damage that drones could cause to inhabited aircraft in a mid-air encounter. (TechCrunch)
Drone delivery firm Project Wing launched OpenSky, an app for drone operators to track where they can fly in Australian airspace. (TechCrunch)
Northeast UAS Airspace Integration Research announced that it has validated an emergency drone parachute system developed by Israeli firm Flytrex. (AUVSI)
Drones at Work
Commercial planes flying through Israeli airspace in recent weeks have experienced satellite navigation disruptions thought to be caused by counter-drone jamming systems operating from Khmeimim Air Base, a Russian military facility in Syria. (The Times of Israel)
A man flying a drone over a beach in Florida spotted a great white shark swimming near a several children, allowing him to warn the group to get out of the water. (CBS News)
The U.S. Air Force is temporarily relocating a fleet of MQ-9 Reapers from 12th Air Base in Miroslawiec, Poland to Camp Turzii in Romania. (Defence Blog)
The Saudi-led military coalition announced that it intercepted a number of drones reportedly launched by the Houthi group in an attempted attack on Jizan airport. (Reuters)
South African firm Drone Guards has launched a service to provide drone aerial security patrols in residential areas. (defenceWeb)
Brazilian retail firm B2W has launched a venture to test drones for delivering goods from distribution centers to brick and mortar stores. (Reuters)
A multirotor drone was used in the response to a fire in Santa Clara, California. (Vertical Magazine)
Singapore's government has charged two men with operating a drone within five km of a military air base without a permit. (The Straits Times)
Police in Vallès, Spain are using drones and ground robots to assist in a campaign to reduce home break-ins in the area. (La Vanguardia) Police are investigating reports that a drone was used to deliver contraband to a Cuyahoga County jail facility in Ohio. (Cleveland Scene)
Industry Intel
Israeli firms Vorpal, Flytrex, and CivDrone are establishing a new research and development facility in Syracuse, New York under a grant provided by New York state. (Rome Sentinel)
Exyn Technologies, a Philadelphia-based startup that is developing autonomous capabilities for drones, raised $16 million in a Series A funding round led by Centricus. (Technical.ly)
The U.S. Navy awarded Frequentis Defense a $8.45 million contract for work on the computer system for the MQ-25 Stingray. (DoD)
The U.S. National Oceanic and Atmospheric Administration issued a request for information for a hybrid drone capable of vertical take-off and landing and horizontal flight. (NextGov)
The Portuguese Army took delivery of the first of 36 AeroVironment RQ-11B Raven drones. (Jane's)
Israel's Aeronautics announced that it has completed an $8 million deal to sell Orbiter 3 drones to an undisclosed country. (The Jerusalem Post)
MetaVR announced that it has been awarded a contract by the U.S Army for 86 virtual reality simulators for training pilots to fly the MQ-9 Reaper. (Unmanned Systems Technology)
Italian defense firm Leonardo introduced a plan to absorb AWHero, a subsidiary firm that makes unmanned helicopters. (Shephard News)
Weaver Consultants Group, a U.S. firm, selected Delair's UX11 for surveying and topographic mapping. (Shephard News)
Amazon is seeking to add more than 2,000 jobs in the U.K. to work on technology projects, including its drone delivery project. (Bloomberg)
Commentary, Analysis, and Art
At the Daily Beast, Betsy Woodruff and Adam Rawnsley write that the U.S. drone campaign over Yemen is more extensive than expected.
At The UAV Digest Podcast, Steven Hummel discusses the methodology and results of a survey conducted by the Consumer Technology Association on how the public perceives drones.
At Aviation Week, Bill Carey looks at the progress the U.S. Federal Aviation Administration has made toward implementing a requirement for remote identification for drones.
In an op-ed at TechCrunch, Bryan Wynne and Gary Shapiro argue that the Uniform Law Commission's proposed drone rule "appropriately balances the rights of property owners with the needs of drone operators."
At The Wall Street Journal, Ben Kesling writes that Iran's shootdown of a U.S. drone highlighted the need for a U.S. strategy for operating drones in contested airspace. Center Co-Director Dan Gettinger provided commentary for this story. 
At Drone Wars, Joanna Frew considers some of the latest developments in the proliferation of armed military drones.
A documentary at the BBC looks at potential threats drones could pose to commercial aviation.
Meanwhile, in an open letter to the BBC, Chinese drone maker DJI took issue with its recent program on potential drone threats.
The editorial board of the Lincoln Journal Star argues that Nebraska's prison system faces bigger problems than contraband-carrying drones.
At The Aviationist, Tom Demerly examines reports of a Chinese-made Wing Loong drone operating in Libya.
Drone Industry Insights has published an update to its annual Drone Market Environment Map. (DroneLife)
Italian firm Carlo Ratti Associati used a swarm of drones to paint a large graffiti mural. (TechCrunch)
For updates, news, and commentary, follow us on Twitter.