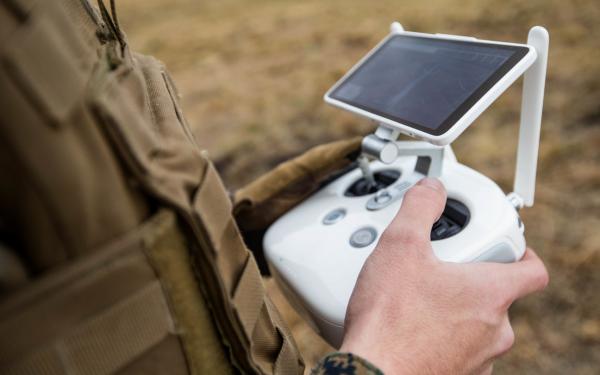 July 8, 2019 – July 14, 2019
If you would like to receive the Weekly Roundup in your inbox, please subscribe at the bottom of the page.
Top Stories
The Washington State Patrol has acquired a fleet of 111 drones and has trained more than 100 officers across the state to operate the aircraft. According to the WSP, the drones are mostly used for documenting car accidents and crime scenes. It is the largest publicly disclosed acquisition of drones by any state or local law enforcement agency in the U.S. (Northwest News Network) For more on public safety drones, click here.
The U.S. Department of the Interior Office of Aviation Services has cleared the agency to purchase two types of drones made by the Chinese firm DJI, which has faced scrutiny in recent months over espionage and cybersecurity concerns. In a report describing its findings, the Department lays out a number of conditions for the use of the aircraft, including that DJI drones may not be used for sensitive missions and the company's software updates must be approved by a third party. (NextGov)
Know Your Drone
Boeing subsidiary Aurora Flight Sciences announced that it has delayed indefinitely initial flight testing of the Odysseus, an experimental solar-powered high-altitude pseudo-satellite drone unveiled last year. (Jane's)
Researchers at the Singapore University of Technology and Design have developed a drone that can split into five smaller drones in mid-flight. (Futurism)
The Russian military has unveiled a plan to develop small explosive-laden suicide drones modeled on the improvised explosive hobby drones used by several non-state groups in the Middle East. (Forbes)
The Yemeni Houthi group unveiled three drones, including a larger system that may be used to deliver explosive payloads and a smaller surveillance drone. (Jane's)
Camera technology firm Moment has unveiled a clip-on anamorphic lens for DJI consumer drones. (The Verge)
In a demonstration, a French Navy future mine countermeasures system unmanned surface vessel identified a number of mines with a towed sonar system. (defense-unmanned.com)
U.S. firm Ascent Vision Technologies unveiled two gyro-stabilized camera systems, one for use aboard small drones and the other for use with counter-drone devices. (Unmanned Systems Technology)
A team from the University of Kansas is developing an autonomous drone for collecting data on wildfires. (U.S. Department of Agriculture)
Drone maker FlyTech UAV has unveiled a vertical take-off and landing variant of its BIRDIE data collection drone. (Unmanned Systems Technology)
A team at Cranfield University has developed a smartphone app for dispatching drones on autonomous missions. (Phys.org)
Drones at Work
The U.S. Federal Aviation Administration has established new no-drone zones over 12 sensitive national security facilities. (Press Release)
The U.S. Navy announced that its MQ-8C Fire Scout helicopter drone has achieved initial operational capability for use aboard Littoral Combat Ships. (USNI News)
The French Navy is re-assigning its Flottille 36F as its first dedicated unmanned aircraft squadron. (Jane's)
A U.S. Army drone crashed near Kunia, Hawaii, sparking a small bushfire. (KITV 4)
The Israel Defense Forces said that it shot down a reconnaissance drone that entered Israli airspace from Gaza. (Associated Press)
Meanwhile, the Saudi military said that it intercepted an explosives-laden Houthi drone inside the Kingdom's airspace. (Associated Press)
The Japan Ground Self-Defense Force displayed a ScanEagle surveillance and reconnaissance drone at a recent event, pointing to the force's growing use of unmanned aircraft. (Shephard News)
The U.K.'s Metropolitan police have launched an effort to use drones to monitor roads for dangerous driving. (The Guardian)
Humanitarian organization Direct Relief announced that it has concluded a successful medical delivery drone program in the Bahamas. (Unmanned Systems Technology)
Industry Intel
The U.S. Department of Agriculture awarded Conservation Services a $128,113 contract for conservation easement monitoring using unmanned aircraft. (FBO)
The U.S. Navy awarded Raytheon a $6.5 million contract for work on software for the MQ-8 Fire Scout. (FBO)
The U.S. Defense Advanced Research Projects Agency awarded BAE a contract to integrate machine-learning technology into signals intelligence systems that could be used aboard drones. (Unmanned Systems Technology)
Volans-i has partnered with Fli Drone to work on drone delivery in the Bahamas. (Geospatial World)
Aeronautics will provide an undisclosed South American country with Orbiter 2 and Orbiter 3 drones under a $10 million deal. (Globes)
Meanwhile, the Israeli government has blocked Rafael Advanced Defense Systems and businessman Avichai Stolero from buying Aeronautics. (Globes)
Flymotion has partnered with Tomahawk Robotics to provide drones for public safety agencies and other government customers. (Press Release)
Barcelona Drone Center has partnered with AirMap to develop a drone traffic management system for Spanish airspace. (Commercial Drone Professional)
The Lithuanian State Border Guard Service will buy several counter-drone systems. (diena.lt)
Japan Infrastructure firm Waymark has partnered with Aerodyne to use drones for infrastructure management. (sUAS News)
Acorn Growth Companies, a private equity investment group, acquired counter-drone firm Black Sage Technologies. (Jane's)
Delair has launched a subscription service that grants European customers access to drones and a data management system. (Shephard Media)
Barzan Aeronautical, a Qatari defense firm, has purchased a Textron Systems Aerosonde drone, which it intends to use to provide intelligence-gathering services to international customers. (Post and Courier)
Commentary, Analysis, and Art
At C4ISRNET, Kelsey D. Atherton considers what the U.S. military could learn from the drone incident at Gatwick Airport last December.
At The Jerusalem Post, Seth J. Frantzman looks at how Israeli companies kicked off the global race for military drones.
At The Chicago Sun Times, Matthew Hendrickson writes that drone users in Chicago are pushing back against a city drone ordinance that they claim is often inappropriately used to crack down on hobbyists.
A preliminary report by the Blue Ribbon Task Force on UAS Mitigation at Airports offers initial conclusions on the risk that drones pose to airports and how to address it.
A report by Italy's Istituto di Ricerche Internazionali Archivio Disarmo looks at the way that the media in Italy covers military drones and how the public perceives the issue.
At the Intercept, Nick Turse examines an official document that sheds light on how the U.S. military counts civilian casualties of U.S. operations in Somalia.
At The Wall Street Journal, Arthur Herman argues that the Missile Technology Control Regime treaty is holding back exports of U.S. military drones.
At Channel News Asia, Gwyneth Teo considers the impact that strict new drone rules in Singapore could have on sales of consumer and commercial drones.
At SDNews.com, Harrison Andrew Pierce discusses the ways in which San Diego is serving as a test site for new drone applications such as drone deliveries.
For updates, news, and commentary, follow us on Twitter.