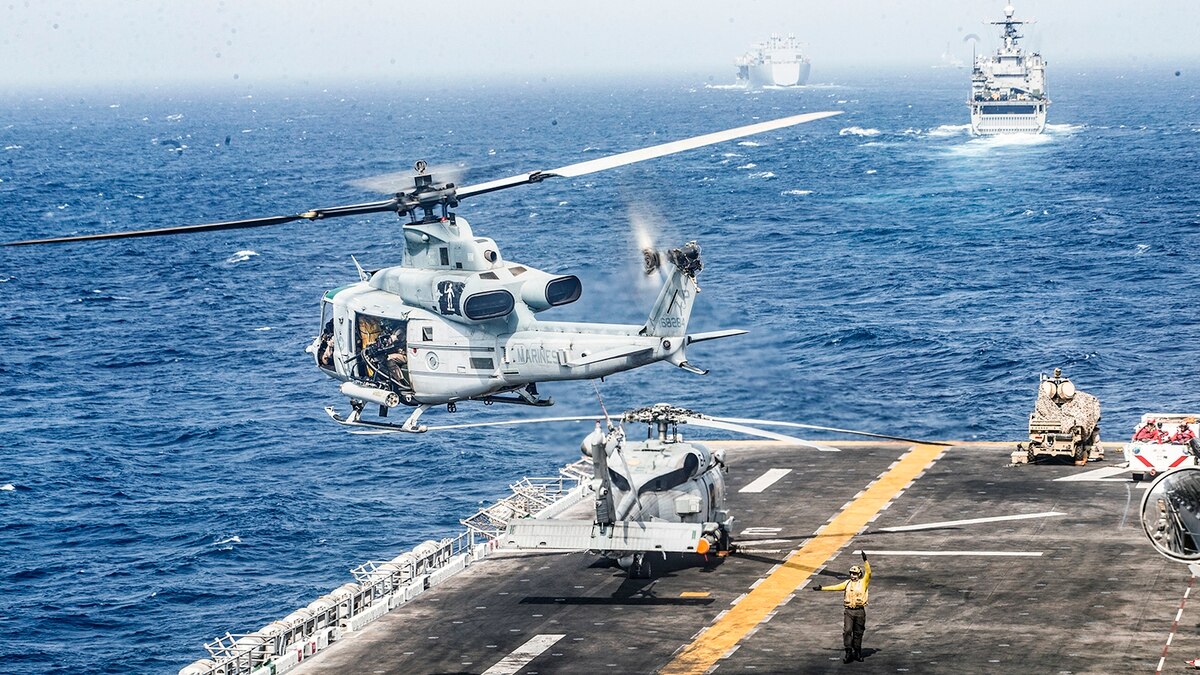 July 15, 2019 – July 21, 2019
If you would like to receive the Weekly Roundup in your inbox, please subscribe at the bottom of the page.
Top Stories
A drone equipped with grenades was reportedly used in an attack on a Shia paramilitary base in northern Iraq, killing one person and wounding two others. Several sources claimed that more than one drone was used in the operation, though others have suggested that some of the explosions may have been the result of mortar fire. No group has claimed responsibility for the operation. (Voice of America)
U.S. forces aboard the amphibious assault ship USS Boxer downed an Iranian drone in the Strait of Hormuz after it came within 1,000 yards of the vessel. In a statement, U.S. President Trump called the downing of the drone a "defensive action." According to a U.S. official who spoke with CNN, the U.S. used an electronic jamming system to bring down the drone. The incident comes after Iran shot down a U.S. RQ-4 Global Hawk surveillance drone in the same area last month. Iran has denied that it lost a drone in the encounter.
Meanwhile, Iran's army announced that it has deployed three strike-capable Mohajer-6 drones to the northeast of the country. In a statement to Iranian media, Brigadier General Shahram Hassannejad said that the aircraft will be used to defend against threats along Iran's borders. (Jane's)
Know Your Drone
Swiss startup Flybotix has developed a drone that employs just two rotors, allowing it to fly for longer periods than multirotor systems. (Engadget)
Australian firm DroneShield unveiled the DroneGun MKIII, a handheld counter-drone jammer system. (Jane's)
Meanwhile, the U.S. Army has begun testing a cyber-enabled drone detection system, which is slated to begin operational testing with the U.S. Special Operations Command later in the summer. (U.S. Army)
The Israeli Air Force announced that it is working to develop a new variant of its Heron TP medium-altitude long-endurance drone. (The Jerusalem Post)
U.S. firm ThrowFlame unveiled the TF-19 Wasp, a flamethrower designed for use aboard commercial multirotor drones. (The Verge)
U.K. startup Altitude Angel has launched an air traffic management software system for drones. (TechCrunch)
Drones at Work
U.S. firm Cape, which provides drones to dozens of public safety agencies, announced that it will cease to work with Chinese manufacturers, citing statements by federal agencies about security risks. (Bloomberg)
The Pueblo County Sheriff's Office in Colorado announced that its drone unit has already conducted 11 operations since its inception in May. (AG Journal)
The European Border and Coast Guard Agency used a surveillance drone to track a trawler carrying 81 migrants off the coast of Italy. (Press Release)
The U.K. Royal Air Force announced the reformation of 216 Squadron, which will focus on developing swarming drone capabilities. (Jane's)
A U.S. Army RQ-7 Shadow drone crashed during a training mission in Juneau County, Wisconsin. (Army Times)
The town of Tiburon, California has passed an ordinance banning the use of drones over schools, public events, and emergency response operations. (Marin Independent Journal)
The French Army held a demonstration of counter-drone technology on the Champs-Élysées as part of the Bastille Day celebrations in Paris. (ABS-CBN)
Industry Intel
The U.S. Army awarded General Atomics Aeronautical Systems a $275 million contract for MQ-1C Gray Eagles and associated satellite communications, data terminals, and other equipment. (DoD)
The U.S. Navy awarded Lockheed Martin a $9.6 million contract for engineering support services for the Extra Large Unmanned Undersea Vehicle development project. (DoD)
The U.S. Navy awarded General Dynamics a $9.2 million contract for engineering support services for the Knifefish unmanned undersea vehicle. (DoD)
The U.S. Air Force awarded AX Enterprize a $7.7 million contract for research on integrating drones into airspace management systems. (DoD)
Drone services firm DroneBase has acquired Betterview, a company that specializes in software for drone roof inspections. (UnmannedAerial.com)
PCL Construction has signed a multiyear agreement for 3DR drones for site inspections and surveying. (Press Release)
Northrop Grumman announced that Tenax Aerospace and Grand Sky Development Company will purchase the Firebird, an optionally-manned surveillance aircraft. (AeroTechNews)
Swiss agtech firm Gamaya has raised GBP 9.7 million in a Series B funding round for its intelligent crop solutions business, which employs drones among other technologies for increasing yields. (Commercial Drone Professional)
Commentary, Analysis, and Art
A report by Teal Group estimates that the market for non-military drones will reach $14.3 billion over the coming decade. (Reuters) At the Carroll County Times, Akira Kyles looks at how the Carroll County Sheriff's Office in Maryland has been using drones since its unmanned aircraft program launched in 2017.
At Reuters, Babak Dehghanpisheh and Phil Stewart consider the implications of Iran's growing drone capabilities for the region.
At The Intercept, Patrick Hilsman looks at how Israeli-made drones have ended up being used to defend Russian interests in Syria.
At Security Magazine, Bill Edwards examines ways to reduce the potential threat that small drones could pose to the airspace.
The U.N. Security Council held an informal discussion on some of the challenges that drones pose to international security. (What's In Blue Blog)
At TechCrunch, Mike Butcher profiles Altitude Angel, a small U.K. startup that thinks it can beat Google in the race to develop a traffic management system for drones.
At The Wall Street Journal, Tess Riski writes that real-estate developers in New York City are pushing the city to change a law that they say prohibits drone usage.
For updates, news, and commentary, follow us on Twitter.