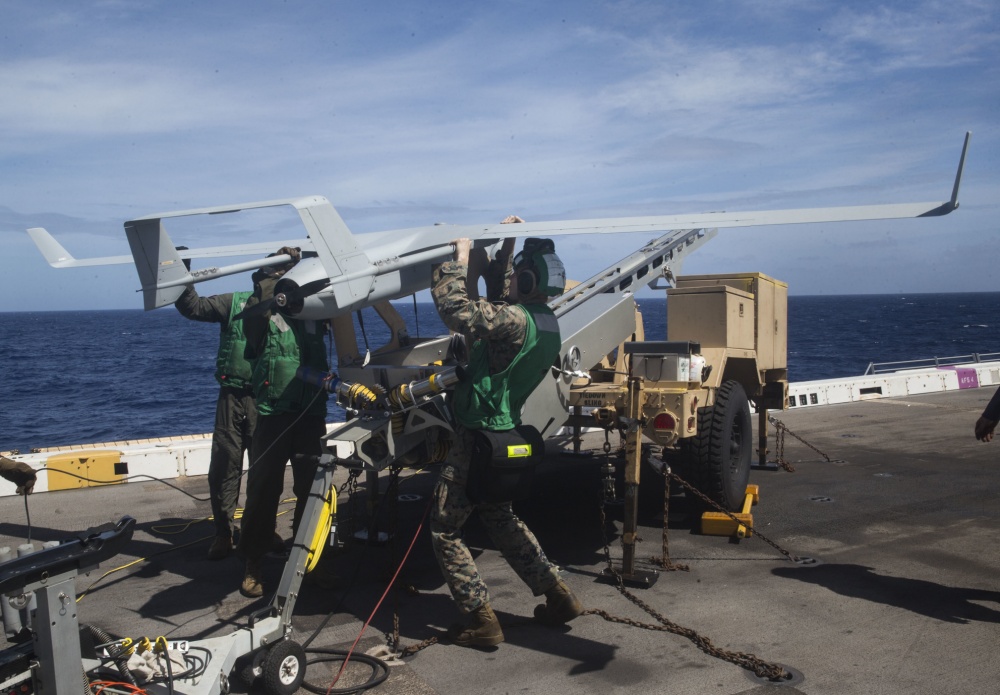 May 27, 2019 – June 2, 2019
If you would like to receive the Weekly Roundup in your inbox, please subscribe at the bottom of the page.
Top Stories
The U.S. Department of State approved a proposed $80 million deal to sell RQ-21A Blackjack drones to the United Arab Emirates. The sale is part of a $8.1 billion arms package to the UAE, Saudi Arabia, and Jordan that the Trump administration is hoping to push through over the objections of some members of Congress by invoking emergency powers. (Defense News)
U.S. federal authorities have charged a man for allegedly flying a drone over two National Football League games in the San Francisco Bay Area in 2017. In a statement, the Department of Transportation's Office of Inspector General said that Tracy Michael Mapes illegally flew within five miles of an airport without authorization. The drone allegedly dropped leaflets with political content. (Associated Press)
Forensic experts in Mexico have concluded that a drone was not responsible for damage to an Aeromexico jet last December, contradicting initial speculation. In a study submitted to the National Transportation Safety Board, the experts found that damage to the Aeromexico 737-800's nose cone was more likely the result of a botched repair job. (Bloomberg)
Climate change activists in the U.K. are threatening to use drones to disrupt air traffic at Heathrow Airport in London later this summer. According to an internal memo obtained by Reuters, Extinction Rebellion is hoping to use the action to convince the U.K. government not to build a third runway at the airport. (Reuters)
Know Your Drone
U.S. firm Lockheed Martin unveiled the Condor, a small fixed-wing surveillance and reconnaissance drone with a flight endurance of more than four hours. (Jane's)
In a live fire test, Milrem Robotics and ST Engineering operated a TheMIS unmanned ground vehicle armed with a machine gun and a grenade launcher with a long-range beyond visual line-of-sight control system. (New Atlas)
The Spanish Air Force and Airbus have partnered to develop a system for inspecting large aircraft with drones and augmented reality technology. (Press Release)
Drone maker Silent Falcon UAS Technologies unveiled the Silent Falcon Extended Endurance, a long-endurance solar-powered drone. (AUVSI)
Chinese drone maker DJI unveiled the Manifold 2, an onboard drone computer for real-time data processing and navigation. (TechCrunch)
Facebook has been awarded a patent for a long-endurance unmanned aircraft that consists of two kites attached to each other by a tether. (SlashGear)
Automaker BMW has filed a patent application for an autonomous car washing drone. (The Drive)
Spanish defense firm Indra unveiled a new version of its Anti RPAS Multisensor System, a counter-drone system. (Shephard Media)
U.K. firm Dynautics unveiled a range of collision avoidance systems for unmanned surface vessels. (Unmanned Systems Technology)
A team from the Polytechnic University of Catalonia and the aid group Open Arms is developing a drone for detecting drifting migrant ships in need of rescue in the Mediterranean. (Euronews)
Drones at Work
The U.S. Air Force has completed runway work on Air Base 201, a new installation that will be used for launching drones near Agadez, Niger. (Stars and Stripes)
The Palestinian Islamic Jihad group released footage showing what it claims is one of its modified commercial multirotor drones dropping an incendiary bomb on an Israel Defense Forces tank. (The Times of Israel)
The Saudi state news agency reported that the Saudi Air Force shot down a Houthi drone bound for an airport near the city of Jizan. (The Jerusalem Post)
The South African National Blood Service is looking to launch a project to use drones to deliver blood to remote areas. (defenceWeb)
The U.S. Navy announced that it will equip the USS Preble, a destroyer, with a high-energy laser for countering drones and other incoming vehicles and projectiles. (Military.com)
The Tulsa Police Department in Oklahoma has warned drone operators to stay well clear of helicopters participating in the emergency response to recent flooding in the area after a string of incidents interfered with flight operations. (CNN News)
The Spanish National Police deployed counter-drone jamming rifles for security during the Champions League final in Madrid. (The Washington Post)
Police in Tokyo announced that they have arrested one man and issued three prosecutorial referrals for drone flights in restricted airspace in recent weeks. (The Mainichi)
Apple Valley High School in Apple Valley, Minnesota hosted its first drone racing tournament earlier this month. (HometownSource)
Singaporean authorities charged engineering firm LT Sambo with operating a drone without a permit. It is the first case of a company receiving the charge in Singapore. (Channel News Asia)
Industry Intel
The U.S. Navy awarded Northrop Grumman Systems a $65.2 million advance acquisition contract for long-lead components for the MQ-4C Triton. (DoD)
The U.S. Navy awarded General Atomics Aeronautical Systems a $36.5 million contract modification for contractor-owned/contractor-operated MQ-9 Reapers. (DoD)
The U.S. Navy awarded Kratos Unmanned Aerial Systems a $25.4 million contract for 34 Lot 3 BQM-177A Sub-Sonic Aerial Target drones. (DoD)
The U.S. Navy awarded Insitu a $47.9 million contract for 34 ScanEagle drones for the governments of Malaysia, Indonesia, Philippines, and Vietnam. (DoD)
The U.S. Army selected French drone maker Parrot as one of six companies to develop a short-range reconnaissance drone. (The Verge)
Paladin Drones, a startup that is developing ways of using drones to shorten 911 response times, raised $1.3 million in a seed funding round. (TechCrunch)
The Dutch Army took delivery of two Milrem Robotics THeMIS unmanned ground vehicles for the Concept Development and Experimentation Project, which assesses the utility of combat drones and the potential of reduced risk to soldiers. (Unmanned Systems Technology)
The Australian Army issued a tender for a new small unmanned aerial system. (Australian Defence Magazine)
Invisible Interdiction announced that the U.S. Air Force awarded it a contract to design and test a rail-mounted counter-drone system. (Press Release)
Commentary, Analysis, and Art
At the Washington Post, Samuel Ramani examines why Houthi rebels in Yemen targeted Saudi oil facilities in a series of drone strikes.
At NPR, Geoff Brumfiel considers the transformative role of drones in Yemen's conflict.
In a cartoon at The Daily Beast, Spencer Ackerman and Matt Bors consider the contradicting narratives at play in the Trump administration's ongoing drone strike campaign in Somalia.
At the Concord Monitor, David Brooks writes that lawmakers in Connecticut are uncertain over the differing roles of state and federal authorities in regulating drones.
At the Associated Press, Hugh Lessig examines shipbuilder Huntington Ingalls' role in the development of large unmanned undersea vehicles for the U.S. Navy.
At CBC News, drone operators in Canada share their perspective on Canada's new drone regulations.
At the National Interest, Michael Peck writes that the U.S. Army is looking to potentially develop autonomous self-deploying surveillance balloons for artillery spotting, base protection, and other roles.
Ahead of the 75th Anniversary of the D-Day landings, the Associated Press used a drone to capture aerial images of the battlefield.
For updates, news, and commentary, follow us on Twitter.