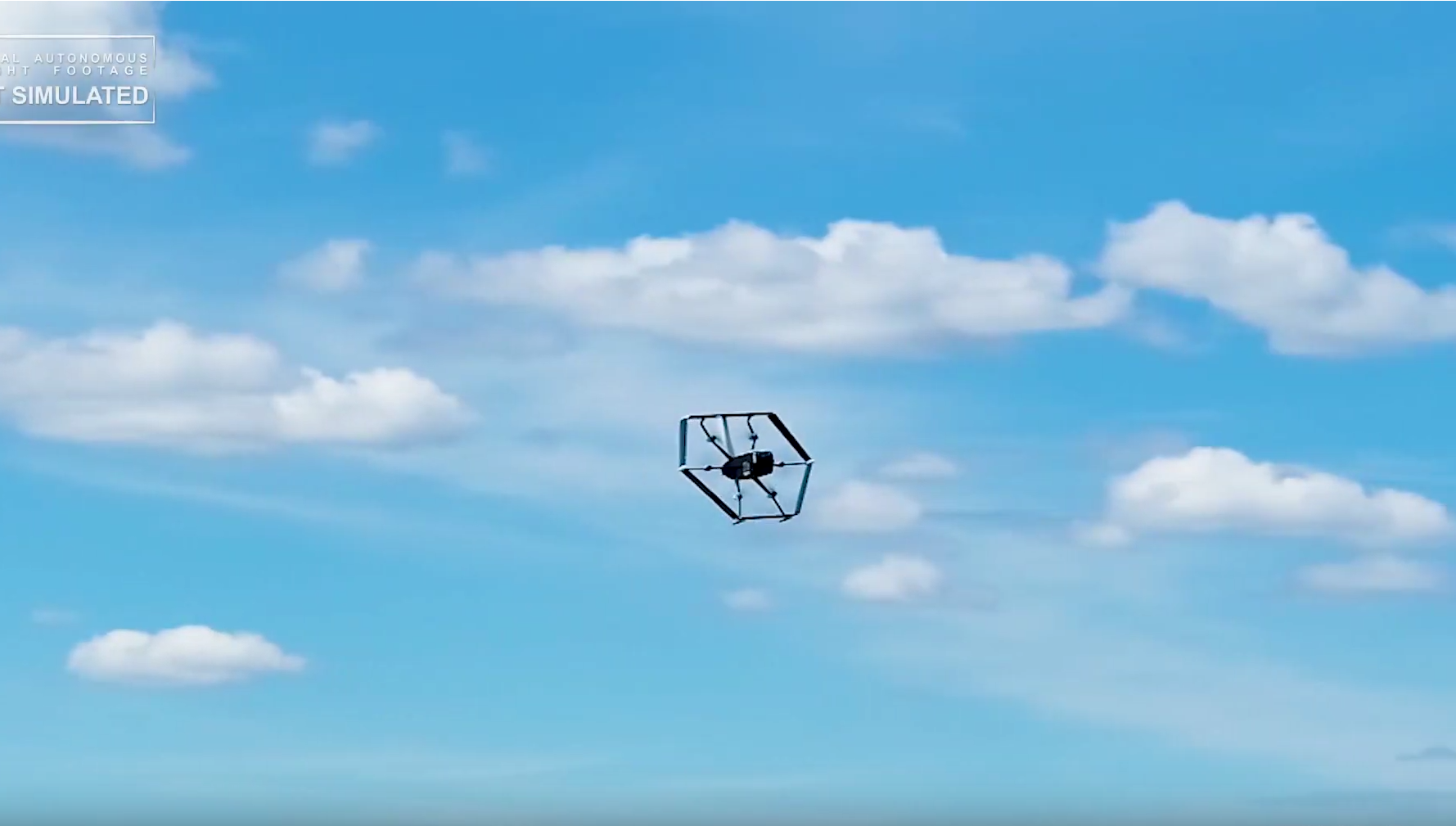 June 3, 2019 – June 9, 2019
If you would like to receive the Weekly Roundup in your inbox, please subscribe at the bottom of the page.
Top Stories
Insitu, a Boeing subsidiary that specializes commercial and military drones, will cut approximately 15 percent of its workforce. In a statement to employees, an Insitu spokesperson attributed the 200-plus layoffs to increased competition in the market. Speaking to The Seattle Times, one employee blamed the cuts on recent product quality issues at the company.
Amazon unveiled a new hybrid drone that it says could begin delivering goods to customers in the next few months. In a presentation at the Re:MARS conference in Las Vegas, Amazon Consumer Worldwide CEO Jeff Wilke said that the new system's design prioritizes safety. (The Verge)
Meanwhile, Air Canada Cargo has partnered with Drone Delivery Canada to develop and operate up to 150,000 drone delivery routes in the country. Air Canada Cargo will market and sell the routes while Drone Delivery Canada will secure regulatory approvals, develop the routes, and operate the drones. (UAS Magazine)
The Royal Jordanian Armed Forces announced that it is selling its fleet of six strike-capable CH-4B drones. The drones, which are made by the China Aerospace Science and Technology Corporation and operated by the Jordanian Air Force, were acquired in 2016. In a statement to FlightGlobal, a Jordanian military official said the sale is part of a broader restructuring of the Air Force fleet.
Know Your Drone
U.S. drone maker InstantEye Robotics unveiled the InstantEye Mk-3 GEN4-D1, an extended range, endurance, and carrying capacity variant of its InstantEye Mk-3 surveillance and reconnaissance drone. (Unmanned Systems Technology)
Israel Aerospace Industries unveiled the T-Heron, a medium-altitude long-endurance drone. (The Jerusalem Post)
A team from the Singapore Ministry of Defence has developed a GPS-free drone that autonomously mapped the interior of a large library building. (Press Release)
British defense firm QinetiQ unveiled an air-launched version of its Rattler supersonic target drone. (Press Release)
South Africa's Council for Scientific and Industrial Research is preparing to begin flight testing its Long Endurance Modular Unmanned Aerial Vehicle, a fixed-wing surveillance drone. (defenceWeb)
Australian firm DefendTex unveiled the Drone 40, a 40mm loitering munition drone that can be fired from a grenade launcher. (C4ISRNET)
Canadian firm Kongsberg Geospatial unveiled a military version of IRIS, a software system for controlling multiple drones simultaneously. (Unmanned Systems Technology)
U.S. aerospace firm Sikorsky announced that its optionally-piloted helicopter kit was used to fly a Black Hawk helicopter for the first time. (Unmanned Systems Technology)
Chinese drone maker DJI has been found to have quietly unveiled a large professional-grade multirotor cinematography drone called Storm. (The Verge)
Drones at Work
The Federal Aviation Administration has granted construction firm Hensel Phelps a waiver to operate a parachute-equipped drone over people. (UAV Expert News)
The California National Guard has been granted blanket approval to operate military drones in California to aid wildfire operations this season. (Associated Press) For more on domestic military drone missions, click here.
Yemen's Houthi group claimed that it conducted a drone attack against a military parade in Aden. According to local officials, the attack was blocked by Saudi air defense systems. (Reuters)
The Indian Air Force has deployed surveillance drones in the search for a cargo plane that went missing over Arunachal Pradesh-Assam. (News Nation)
Emergency responders in Miami, Florida have acquired drones in preparation for the 2019 hurricane season. (CBS4 Miami)
The regional government of Uttarakhand in India conducted what's thought to be the country's first blood delivery by drone as part of a pilot program for unmanned aerial medical deliveries. (News 18)
The Nebraska State Patrol has arrested a 37-year-old man for allegedly attempting to use a drone to deliver contraband to a prison in Lincoln. (KMTV)
Ivorian drone firm Investive Group is providing aerial precision agriculture services to local palm oil farmers to boost yields. (Reuters)
The Taiwanese government conducted a drone air traffic management system test in Fukushima, Japan. (Commercial Drone Professional)
Aircrews battling a wildfire in Arizona had to ground their operations temporarily after spotting an unauthorized drone flying in the area. (Press Release)
Industry Intel
The FAA is pledging $6 million in matching funding for companies developing critical technologies for integrating drones into the airspace. (DroneLife)
The U.S. Navy intends to award Kratos Unmanned Aerial Systems a $1.07 million contract for consumables for the BQM-177A target drone. (FBO)
Israel Aerospace Industries awarded Orbit Communication Systems a $1.8 million contract for airborne audio management systems for the Heron TP. (Press Release)
BAE Systems has acquired Riptide Autonomous Solutions, a Massachusetts-based firm that specializes in unmanned undersea vehicles. (Unmanned Systems Technology)
Red Cat, a drone data storage and analytics firm, announced that it intends to acquire Rotor Riot, a company that sells first-person view drones and accessories. (Press Release)
Boeing announced that it will invest an undisclosed amount in Robotic Skies, a drone repair and logistics firm, to explore new business opportunities. (MRO-Network.com)
Aethon Aerial Solutions has acquired RME Geomatics, a Canadian remote-sensing firm. (Commercial Drone Professional)
Airbus Aerial and Swiss Re Corporate Solutions have partnered to use drone imagery to identify flood risks and predict potential damage from flooding incidents. (Unmanned Systems Technology)
Commentary, Analysis, and Art
In a new report at Drone Wars UK, Chris Cole reviews military drone crash data from around the world.
A report by C4ADS and the Resilient Navigation and Timing Foundation examines Russian efforts to use GPS spoofing to protect VIPs from drones. (C4ISRNET)
At Military.com, Gina Hawkins writes that the U.S. Navy's plan to build two large unmanned surface vehicles faces an uphill battle in Congress.
According to Airprox Reality Check, a U.K. activist group, the U.K.'s safety aviation board has yet to find definitive proof that drones were involved in reported close encounters with manned aircraft. (DroneLife)
At IEEE Spectrum, Jeremy Hsu looks at why the U.S. military has taken an interest in drone racing.
Also at IEEE Spectrum, Evan Ackerman and Michael Koziol write about Tanzania's budding drone industry.
The UAV Digest podcast offers a few takeaways from the FAA's UAS Symposium 2019 conference last week.
At Bloomberg, Marie Mawad looks at why French wineries have embraced drones.
For updates, news, and commentary, follow us on Twitter.
[includeme file="tools/sympa/drones_sub.php"]