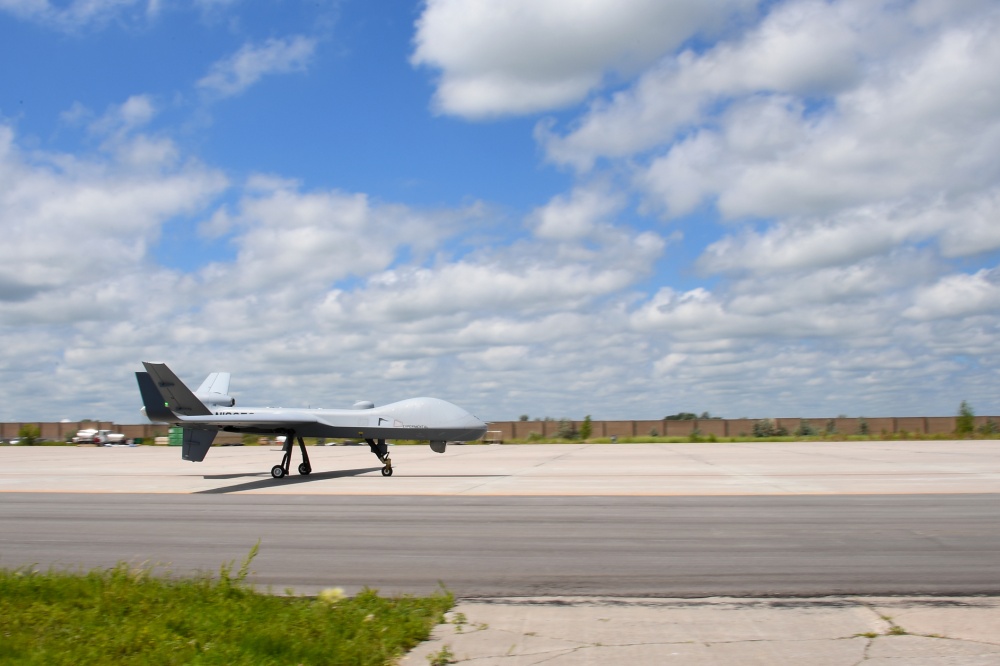 July 16, 2018 – July 22, 2018
If you would like to receive the Weekly Roundup in your inbox, please subscribe at the bottom of the page.
Top Stories
The Netherlands has agreed to purchase unarmed MQ-9 Reaper drones from the United States. In a deal signed at the Farnborough Airshow, the Dutch Air Force will acquire four aircraft and associated equipment such as ground control stations. The value of the sale is estimated to be approximately $339 million. (Defense News)
Meanwhile, the U.S. has reportedly offered to sell armed Guardian drones to India. According to Reuters, the offer will be discussed in a meeting between U.S. and Indian defense officials in September. The Guardian is the maritime variant of the MQ-9 Reaper.
A group of more than 2,000 technology leaders has pledged not to contribute to the development of lethal autonomous weapons. The pledge, which was announced at the 2018 International Joint Conference on Artificial Intelligence, includes numerous prominent figures such as Tesla CEO Elon Musk and the founders of Google subsidiary DeepMind. (The Verge)
European aerospace firm Airbus has partnered with the European Aviation Safety Agency and the Civil Aviation Authority of Singapore to exchange information and expertise on drone regulations. The collaboration will focus on improving the safety of drone operations over urban spaces. (FlightGlobal)
Know Your Drone
Airbus Defence and Space announced that it has begun series production of its Zephyr solar-powered high-altitude pseudo-satellite drone, and revealed that the first of three Zephyrs destined for the U.K. Ministry of Defence made its maiden flight earlier this month. (Defense News)
European drone maker UMS Skeldar unveiled the Skeldar V-200B, a heavy fuel variant of its maritime surveillance helicopter drone. (Unmanned Systems Technology)
Portuguese technology firm Tekever unveiled the AR5, a fixed-wing drone for maritime surveillance applications. (FlightGlobal)
U.S. drone maker UAVOS has completed a series of flight trials of its SAT-i, a solar-powered fixed-wing drone. (AUVSI)
Jordan's King Abdullah II Design and Development Bureau unveiled a prototype for an armed unmanned ground vehicle. (Jane's)
Australian firm DroneShield has been awarded a patent for an acoustic counter-drone detection system. (The West Australian) For more on counter-drone technology, click here.
U.K. startup SteelRock Technologies unveiled a range of drones, including a counter-IED drone, as well as a number of counter-drone systems. (Jane's)
The U.S. Marine Corps has issued a request for information for a cargo drone capable of carrying up to 500 pounds over distances of at least six miles. (Marine Corps Times)
Russian defense firm Zala is integrating LIDAR sensors on its family of surveillance drones. (C4ISRNET)
A team from Eötvös University has developed a complex flocking model that enables swarms of several dozen drones to operate in synchrony without a central control system. (Wired)
The U.S. Marine Corps Warfighting Laboratory is exploring a system for having a single soldier on the ground be able to operate up to 15 loitering munition drones simultaneously. (Marine Corps Times)
U.S. defense firm Sierra Nevada Corporation and Israel Aerospace Industries have announced a joint effort to develop a tactical vertical takeoff and landing drone for wide-area surveillance missions. (Globes)
In a statement, the Russian Ministry of Defense claimed that it has begun sea trials of a nuclear-armed underwater drone. (The Diplomat)
Drones at Work
The U.S. Army has announced a plan to acquire the Raytheon Coyote, a tube-launched drone that can be equipped with an explosive warhead, which it will use as a counter-drone weapon system. (Military.com)
A pair of climbers in Pakistan used a drone to find a mountaineer who had fallen off an ice cliff while attempting to climb Broad Peak, the world's 12th tallest mountain. (CBS News)
The OSCE Special Monitoring Mission to Ukraine has reported that one of its surveillance drones was fired upon by militants in the town of Khrustalnyi. (UNIAN)
The National City police and fire departments in California have acquired three drones for emergency operations. (Government Technology)
Chipmaker Intel flew a swarm of 2,018 lightshow drones as part of its 50th anniversary celebration in Folsom, California, breaking the world record for the largest drone swarm display. (CNBC)
The U.S. Navy employed the MQ-8C Fire Scout helicopter drone during a set of counter-mine scenarios in its Rim of Pacific exercise. (Jane's)
A medical helicopter was reportedly delayed from landing at a hospital in Rupert, Idaho due to a drone that was spotted nearby. (MagicValley.com)
The Placer County Mosquito and Vector Control District in California is using drones to detect mosquito larvae and spray pesticides. (Auburn Journal)
Conservation organization Virginia Working Landscapes and James Madison University are using drones to monitor threatened grassland bird populations. (Press Release)
Yemeni Houthi rebels claimed that the group carried out a drone attack on a Saudi Aramco oil refinery in Riyadh. The company responded in a statement that there had been a fire at the facility caused by an "operational incident." (Reuters)
Meanwhile, the Russian military claims that it has shot down two drones that attacked Russia's Hmeimim air base in Syria. (Reuters)
Thales announced that it expects that its counter-drone system will be active at Charles de Gaulle airport by the end of the year. (AIN)
Industry Intel
The U.S. Navy awarded Northrop Grumman a $19.3 million contract for work on the signals intelligence package on the MQ-4C Triton surveillance drone. (DoD)
The U.S. Navy awarded Orbital a $52.9 million contract for 18 GQM-163A lot 12 Coyote target drones. (Military & Aerospace Electronics)
The U.S. Army awarded Al Sahraa General Transport and Clearance a $24.4 million contract to build an operational facility for the MQ-4C Triton in the United Arab Emirates. (FBO)
Kenya's air cargo carrier Astral Aviation will purchase two Falcon Lucas-F520 drones from Falcon Drones, a Dubai-based drone manufacturer. (Air Cargo World)
Boeing has partnered with artificial intelligence firm SparkCognition to work on drone traffic management systems using blockchain technology. (AUVSI)
The U.S. Department of Defense has asked Congress to reprogram $20 million to support countering drones armed with chemical, biological, or nuclear materials. (Inside Defense) For more on drones in the U.S. defense budget, click here.
Commentary, Analysis, and Art
At Niemen Lab, Judd Slivka argues that a proposal for new legislation to establish no-fly zones above private property would have a chilling effect on drone journalism in the United States.
In a profile of the Drone Racing League for Engadget, James Trew considers the ongoing debate over the future of the sport.
A report by the U.K.'s All Party Parliamentary Group on Drones questions the government's reporting of civilian casualties from drone strikes and suggests that U.K. military personnel who are involved in such operations could be prosecuted.
At Rolling Stone, Matt Taibbi chronicles the story of two men who claim to have been placed on the U.S. "kill list" and are now challenging the government in court.
At Defense News, Jen Judson writes that the U.S. Army is considering accelerating a plan to replace the RQ-7 Shadow with new tactical drones.
At GQ Italia, Marco Petrelli visits the Italian military's RQ-7 Shadow 200 unit in Afghanistan.
At Defense One, Samuel Bendett writes that the Russian military recently released a plan to advance Russia's artificial intelligence capabilities.
At Stratfor, Scott Stewart considers the potential consequences of a terrorist drone attack against civilian targets.
At Reuters, Stephen Jewkes and Christoph Steitz write that utility companies in Europe are investing in long-range drones to inspect pipelines and power lines.
At Newsday, Randall G. Holcombe looks at how NASA's drone air traffic management system could work and how it is different from the existing air traffic systems for manned aircraft.
At New Scientist, Chris Baraniuk writes that insurance companies are enlisting dozens of drone pilots to verify property damage claims.
In photographies, Sarah Tuck explores ways in which drone vision can be reappropriated to support protests and activism.
At The Drive, Marco Margaritoff discusses a market research report that found that a growing number of commercial drones will be capable of reliable cellular connectivity over the next few years.
At Inverse, Nick Lucchesi describes Boston Dynamics' ambitious plans for its dog-like robots.
The organizers of the Drone Awards 2018 announced the winners of its inaugural drone photography contest. (My Modern Met)
For updates, news, and commentary, follow us on Twitter.
[includeme file="tools/sympa/drones_sub.php"]