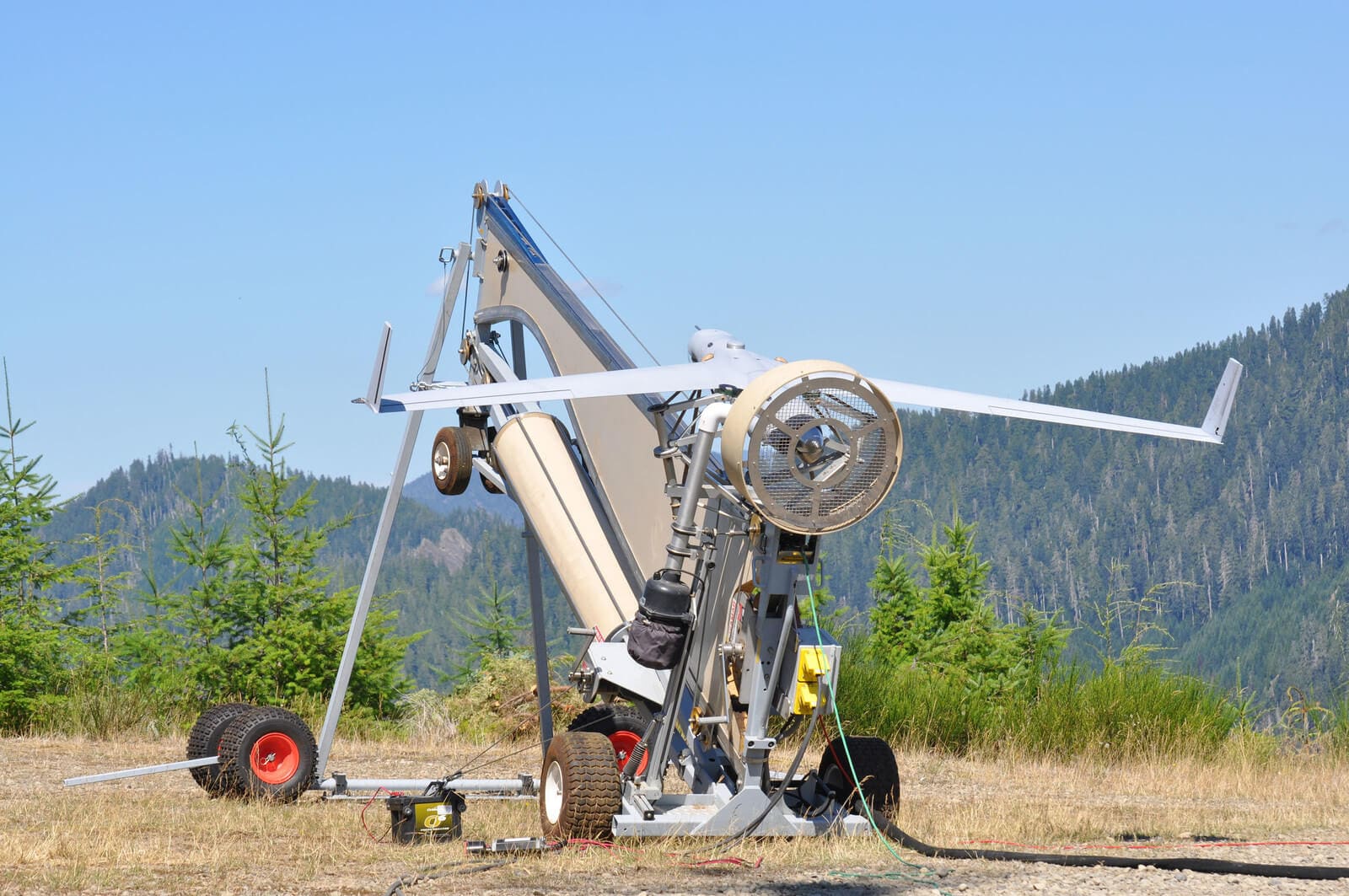 August 6, 2018 – August 12, 2018
If you would like to receive the Weekly Roundup in your inbox, please subscribe at the bottom of the page.
At the Center
In an interview with Deutsche Welle's Brent Goff, Center for the Study of the Drone Co-Director Arthur Holland Michel discusses the apparent drone attack on Venezuelan president Nicolás Maduro.
Top Stories
Venezuela's Supreme Court ordered the arrest of opposition leader Julio Borges in connection with the alleged assassination attempt on President Maduro. Last week, two drones exploded near Maduro as he was giving a speech in Caracas. Several other opposition lawmakers have already been arrested following the incident. (New York Times)
Israeli contractor Rafael Advanced Defense Systems has made a $117 million offer to acquire Aeronautics, an Israeli defense firm that specializes in small and mid-sized drones. Aeronautics is the subject of an ongoing police investigation over its role in an incident in Azerbaijan involving one of its loitering munitions. (Haaretz)
Airbus has completed a flight test of its solar-powered Zephyr S high-altitude pseudo-satellite, which flew for a total of 25 days, 23 hours, and 57 minutes. The flight surpassed the previous record, also held by the Zephyr, by more than ten days. (AIN Online)
France's presidential police intercepted a drone flying over Fort de Brégançon, an island off the French Mediterranean coast that serves as the official summer home for the French president. No injuries were reported from the incident. (Engadget)
Know Your Drone
A group of students from Davidson College in North Carolina has developed a hose-equipped drone for cleaning the exterior of tall buildings. (The News & Observer)
A team from the University of Central Lancashire has developed a graphene-coated fixed-wing unmanned aircraft. (Unmanned Systems Technology)
Researchers at the California Institute of Technology have developed an algorithm that enables drones to herd birds away from airports, where they can pose a risk of engine ingestion. (AIN Online)
The U.S. Army is seeking to enlist defense giant Lockheed Martin to develop a variety of counter-drone technologies, including a high-power microwave system. (Military & Aerospace Electronics)
The China Academy of Aerospace Aerodynamics announced that it has conducted a successful flight test of the Starry Sky-2, a hypersonic unmanned aircraft system, which reportedly reached Mach 6. (CNN)
Meanwhile, the China Academy of Aerospace Aerodynamics also unveiled an upgraded variant of the Cai Hong 804C, a vertical take-off and landing fixed-wing surveillance drone. (Jane's)
French firm Terabee unveiled the TeraRanger Tower Evo, a LiDAR-based collision avoidance system for drones and robots. (AUVSI)
Polish firm WB Electronics has revealed that it is developing a new version of the Warmate loitering munition drone. (Jane's)
U.S. firm Cubic is preparing to launch a new affordable surveillance drone. (Aviation Week)
Drones at Work
The French Air Force has revealed that it operated two MQ-9 Reaper surveillance drones over last month's Bastille Day celebrations in Paris and Cognac. (Press Release)
A team of faculty and students from Embry-Riddle Aeronautical University has been using drones to survey the shoreline of Mosquito Lagoon in Edgewater, Florida in support of the Riverside Conservancy. (Unmanned Systems Technology)
The Effingham Fire Department in Illinois used a drone to help locate a child who had run away from home. (The Drive)
The U.S. Department of the Interior has observed a 25 percent reduction in cases of drones interfering with wildfire operations compared to the same period last year. (Aviation Week)
Illinois Governor Bruce Rauner signed into law a measure that prohibits most municipal governments from regulating drones. (Illinois News Network)
British drone services firm Cyberhawk conducted an official hull survey of the interior of an oil tanker using a multirotor drone. (AUVSI)
Alphabet's Project Wing conducted a successful demonstration of its drone delivery system in Virginia. (Blomberg)
Ukrainian border guards apprehended three individuals who were reportedly attempting to use a drone to smuggle a large quantity of cigarettes into neighboring Romania. (OCCRP)
The Public Health Agency of Canada and Drone Delivery Canada have launched a pilot project to test drones for urgent blood sample delivery in remote areas. (The Drive)
Spain's traffic authority has deployed five small surveillance drones to monitor traffic along the Canary Islands' roadways. (Infodron.es)
Industry Intel
The U.K. Ministry of Defence awarded Rafael Advanced Defense Systems a $9.7 million contract for the Drone Dome counter-drone system. (Shephard Media)
The U.S. Air Force awarded AAI Corporation a $12.8 million contract for contractor-owned and contractor-operated drones and associated equipment. (DoD)
The U.S. Navy awarded Boeing subsidiary Insitu a $9 million contract for spare and sustainment parts for the U.S. Marine Corps' RQ-21A Blackjack. (DoD)
The U.S. Army awarded Loumos a $69,525 contract for an unmanned aerial vehicle shelter for Fort Drum. (FBO)
The U.S. Army awarded Strategic Robotic Systems a $568,700 contract for an unmanned underwater vehicle for explosive-ordnance disposal. (FBO)
The U.S. Special Operations Command awarded Insitu a $5,000-minimum contract with a $232 million ceiling for mid-endurance unmanned aircraft systems. (DoD)
The U.S. Department of the Interior awarded 3D Robotics a $228,900 contract for 3DR Solo quadcopter drones. (FBO)
The U.S. National Oceanic and Atmospheric Administration announced that it intends to award contracts to BirdsEyeView Aerobotics for FireFly6 Pro drones and associated equipment. (FBO)
The U.S. Defense Advanced Research Projects Agency awarded iRobot Defense Holdings a $1.5 million contract for work on the Subterranean Challenge. (FBO)
ManTech announced that it has been awarded a $45 million task order by the U.S. Air Force Installation Contracting Agency for upgrades to a range of U.S. military drones. (Shephard Media)
FairFleet, a German drone services startup, announced that it has raised an undisclosed amount of funding from High-Tech Gründerfonds. (Finsmes)
The Civil Aviation Authority of Singapore awarded Wilhelmsen Ships Service a maximum of approximately $1.1 million in funding for work on a ship-to-shore drone delivery system. (Marine Log)
Aha.is, an Icelandic online marketplace firm, has added 13 new drone delivery routes in Reykjavik in partnership with Flytrex. (Essential Retail)
AFWERX, the U.S. Air Force's startup funding arm, awarded Indianapolis-based Pierce Aerospace funding for work on remote identification systems. (The Drive)
Spain's Ministry of Defense is soliciting bids for a 4.3 million euro contract for small drones for training missions in operational environments. (Infodron.es)
The Armed Forces of Honduras is acquiring six Elbit Skylark-3 drones from Israel for border security missions. (Infodron.es)
Commentary, Analysis, and Art
Local historians in Jamestown, New York gave a presentation on the town's role in developing secret U.S. Navy drones during World War II. (The Post-Journal)
At Slate, Sally French profiles the Australian Army's drone racing team, which is aiming to stage a comeback in a race against other military teams at the upcoming Invictus Games.
At the Drone Radio Show, Gene Janice Engelgau discuss why parachutes could become a popular recovery systems for expensive drones. (Soundcloud)
At Jane's, Melanie Rovery writes that unmanned ground vehicle missions are increasingly focused on countering CBRNE threats.
An event at the Center for Strategic and International Studies examined the Trump administration's push to expand arms exports for a variety of weapons, including drones. (YouTube)
At the Small Wars Journal, Peter Layton considers the implications of the growing numbers of robots in warfare.
At C4ISRNET, Courtney Soboleski considers the barriers of integrating machines into military training and operations.
At Bellingcat, Nick Waters investigates the drone attack on Nicolás Maduro.
At The Daily Beast, Jeremy Kryt considers whether further attempts to use drones for assassination may be on the horizon.Center Co-director Arthur Holland Michel was interviewed for this story.
At Quwa, Bilal Khan explores Pakistan's efforts to acquire and develop advanced drones.
At The New Yorker, Sam Knight looks at how a heat wave in the U.K. is enabling drone-equipped archeologists to seek out forgotten historical sites.
At Pew Charitable Trusts, Jenni Bergal looks at how drones are becoming useful tools for police to investigate car crashes. Center Co-director Dan Gettinger was interviewed for this story.
In Millennium: Journal of International Studies, Emil Archambault reviews works that address targeted killing and technologies of violence. (SAGE Journals)
At the Associated Press, Jeff Duewel and Scott Stoddard write that sophisticated drones are quickly becoming essential tools for firefighters.
For updates, news, and commentary, follow us on Twitter.