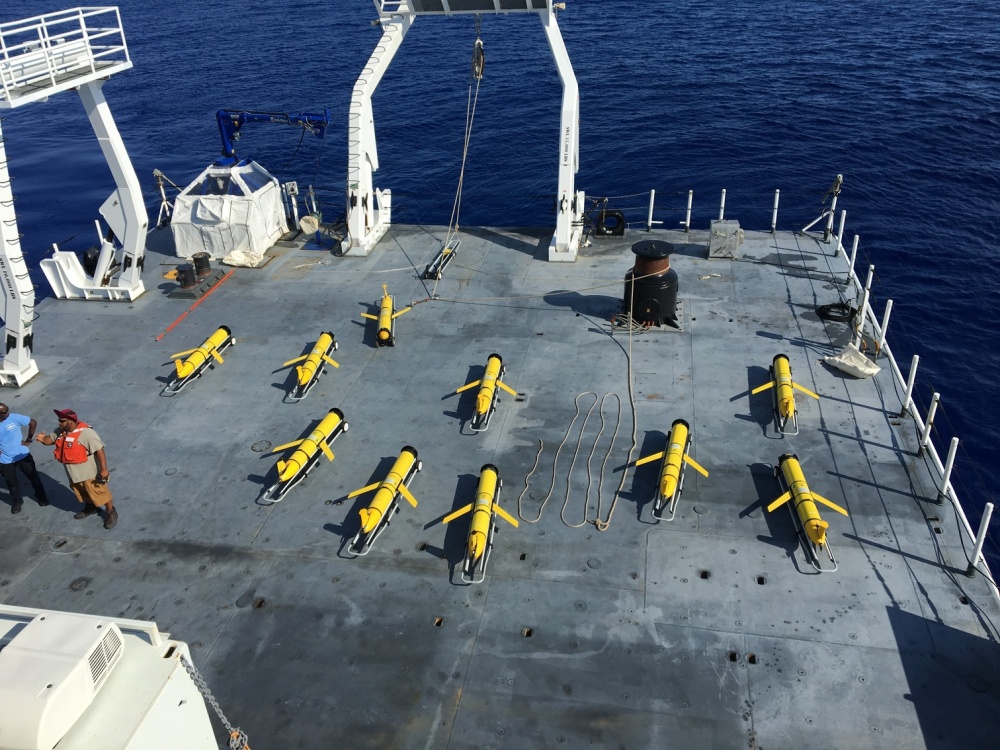 July 30, 2018 – August 5, 2018
If you would like to receive the Weekly Roundup in your inbox, please subscribe at the bottom of the page.
Top Stories
Two C4-laden drones reportedly exploded over a military review in Caracas in what appeared to be an assassination attempt against Venezuelan President Nicolás Maduro. In a statement, Interior and Justice Minister Nestor Reverol said that one of the drones was disrupted by signal jamming equipment and a second crashed into a nearby building. Several people were injured but no deaths have been reported. (Agence France-Presse)
The California Air National Guard has deployed an MQ-9 Reaper drone to support the California Department of Forestry and Fire Protection's efforts to battle this summer's various wildfires in the state. This is the second year in a row that the California Air National Guard has deployed a Reaper for such operations (Press Release)
The U.S. Defense Advanced Research Projects Agency has completed Phase II of its Fast Lightweight Autonomy program, which seeks to develop small drones capable of autonomously navigating and searching complex environments. The next phases of the program will focus on achieving greater computational power in smaller aircraft. (C4ISRNET)
Know Your Drone
In a series of tests, Canadian firm Global UAV successfully flew a drone using a 4G cellular network communications link. (Inside Unmanned Systems)
A team at the Fraunhofer Institute for Telecommunications has developed a system for controlling drones using voice channels over a mobile network. (Phys.org)
Israel Aerospace Industries subsidiary ELTA Systems is developing a drone-based variant of its RES-Q-CELL mobile phone locator system. (Defense Update)
Textron Systems has demonstrated a simulated manned-unmanned teaming operation involving a light-attack jet and two tactical drones. (Air Force Technology)
Boeing and MIT are planning to build a research center for flying taxi and cargo drone technology research and development in Cambridge, Massachusetts. (Puget Sound Business Journal)
Drone maker Martin UAV announced that its V-Bat vertical take-off and landing drone will be equipped with a Persistent Systems MPU5 radio transmission system. (Jane's)
Following an inadvertent leak in a British sales catalog, Chinese drone maker DJI confirmed the forthcoming release of its Mavic 2 quadcopter drone. (CNET)
Indian firm Hindustan Aeronautics Limited conducted a successful test flight of a 10 kilogram rotary-wing drone. (Press Release)
Drones at Work
The city council of Orchard Park in New York has passed an ordinance restricting the use of drones near Buffalo Bills NFL games. (Rochester First)
The Fairfax County Board of Supervisors in Virginia has postponed a decision to purchase eight drones for emergency operations until it can gather further public input on the proposal. (WTOP)
The state government of Nevada has announced the launch of the Nevada Drone Center of Excellence for Public Safety, a research facility focused on domestic drone integration challenges. (GCN)
The U.S. Marine Corps conducted the final flight of its RQ-7B Shadow surveillance drone at the Rim of the Pacific exercise in Hawaii. (Press Release)
Israeli firm ParaZero announced that its drone parachute system recently saved a drone worth hundreds of thousands of dollars that malfunctioned during an operation by an undisclosed customer. (Press Release)
The government of Tunisia and the African Development Bank have launched a joint initiative to use drones for supporting agricultural projects. (ITWeb Africa)
Ohio-based foundation Flight To Remember Foundation is using drones to create aerial videos for hospice patients. (Unmanned Aerial Online)
The Air Navigation Services of the Czech Republic has deployed the AirMap unmanned air traffic management system for commercial drone operations. (Press Release)
Police in Edmonton, Canada are investigating a near miss between a large drone and a WestJet passenger plane on final approach to Edmonton International Airport. (Edmonton Journal)
Police in Bettendorf, Iowa are searching for two drone pilots who allegedly injured a toddler while flying in a local park. (Des Moines Register)
Shybot, an unmanned ground vehicle designed to evade human contact for the 2017 Desert X art biennial, has been found near Palm Springs. (The Art Newspaper)
Industry Intel
The U.S. Navy awarded 23 U.S. defense firms a $561.2 million contract with a $794.5 million ceiling for unmanned undersea vehicle family of systems technologies. (DoD)
The U.S. Navy awarded Oceaneering International a $1.8 million contract for unmanned undersea vehicle enhancement. (FBO)
The U.S. Navy awarded Boeing Insitu a $414,063 contract for spare parts for the ScanEagle drone for the government of the Czech Republic. (FBO)
The U.S. Army awarded DRS Sustainment Systems a $13.3 million contract for Mobile Low, Slow Small Unmanned Aerial System Integrated Defeat System Increment 1 vehicles. (DoD)
The U.S. Army awarded Northrop Grumman a $7.5 million contract modification for work to support the Hunter drone. (DoD)
The U.S. Army awarded Inter-Coastal Electronics a $384,210 contract for a device to provide real-time position location for small drones. (FBO)
The U.S. Army awarded Zipline International a $2.5 million contract to demonstrate the company's drone delivery system. (FBO)
The U.S. National Oceanic and Atmospheric Administration announced that it intends to award Raytheon a contract for seven Coyote drone systems. (FBO)
CACI International announced that it has been awarded a $48.5 million contract by the U.S. Navy to provide support for the deployment of counter-drone systems and capabilities. (Press Release)
Lockheed Martin announced that it has been selected by the U.S. Army to lead a three-year effort to test unmanned and autonomous resupply convoys. (Unmanned Systems Technology)
Israel Aerospace Industries has partnered with Croatian firm DOK-ING to develop an autonomous unmanned ground vehicle. (Jane's)
Thailand's Ministry of Defense has awarded Israeli firm Aeronautics Defense Systems a contract for a Dominator drone. (Globes)
Propeller Aero partnered with Komatsu, a Japanese construction firm, to provide technology that can to create 3D models from drone imagery. (The Drive)
Xwing, a startup that is developing software that could enable small passenger planes to fly autonomously, raised $4 million in a seed round led by Eniac Ventures. (TechCrunch)
An amendment proposed by U.S. Senator Mark Warner to a transportation and housing spending bill includes $6 million in funding for U.S. civilian drone test sites. (Augusta Free Press)
The State of New York is awarding Griffiss International Airport in Oneida County approximately $800,000 to improve its infrastructure for drone operations. (WKTV)
The Xunta de Galicia in Spain announced that it intends to award a 1.2 million euro contract for surveillance drones to patrol a mountainous region. (Infodron.es)
In its second-quarter earnings report, Parrot announced that its drone division has grown 14 percent. (PDF)
Uber announced that it will shut down the company's self-driving truck project and work on autonomous cars instead. (NPR)
redUAS has partnered with New Mexico Tech to offer counter-drone training to first responders. (Press Release)
AgEagle acquired Agribotix, a Colorado-based company that offers software for drone-enabled precision agriculture. (Press Release)
Commentary, Analysis, and Art
At Reuters, Joseph Ax explains how the assassination attempt in Venezuela highlights the growing threat of weaponized commercial drones.
Center for the Study of the Drone co-director Dan Gettiner was interviewed for this story.
At the Los Angeles Times, Samantha Masunaga writes that U.S. drone maker AeroVironment is exploring ways to develop a helicopter that can fly on Mars.
At C4ISRNET, Kelsey Atherton considers the future of the U.S. military's effort to develop artificial intelligence following Google's exit from Project Maven.
In a report for the Center for a New American Security, Loren DeJonge Schulman examines how U.S. policymakers perceive armed drones.
In a report by the Oxford Research Group, Emily Knowles and Abigail Watson explore the costs associated with remote warfare.
The U.S. Air Force released a classified 10-year strategy for enhancing its Intelligence, Surveillance, and Reconnaissance capabilities. (C4ISRNET)
At Jane's, Ludovico Carlino considers how Houthi drones are placing Saudi aviation and oil infrastructure at risk.
Meanwhile, at Aviation Week, David Hambling writes that Russia's air base in Syria is under relentless drone attacks.
At Politico, Stephanie Beasley reports that U.S. drone industry organizations are speaking out against provisions in an FAA reauthorization bill that would regulate drone deliveries.
A survey by Munich Reinsurance America found that the majority of U.S. farmers are considering acquiring drones, or have already already done so. (UAS Magazine)
At the Wall Street Journal, Maya Sweedler profiles the urban drone racers who are creating their own temporary indoor racetracks.
In a podcast at the Future of Life Institute, Ariel Conn speaks with six experts who explain the debate over lethal autonomous weapons.
At the Covert Shores blog, H.I. Sutton provides a background on Russia's Cephalopod armed unmanned undersea vehicle program.
At Defense News, Aaron Mehta considers the future of European unmanned ground vehicle development programs.
Speaking at the Aspen Security Forum last month, U.S. Army Secretary Mark T. Esper said that the outcome of future wars could hinge on which side has superior robotics. (AUSA)
At Defense One, Paulina Glass writes that Chinese unmanned undersea vehicles will likely rely heavily on artificial intelligence.
At Inside Defense, Justin Katz reports that U.S. lawmakers are seeking to cut funding for several prominent Navy and Marine corps experimental drone programs.
A report by Kathleen Bartzen Culver and Megan Duncan at the Center for Journalism Ethics explores ways in which journalists can responsibly use drones for newsgathering.
At the Detroit News, Nolan Ryan looks at how the growing number of police drones in Michigan is sparking disagreements over safety and privacy.
At Forbes, Elizabeth Macbride writes that an Israeli startup is exploring ways of using drones to find active shooters in a building.
At Fast Company, Jeff Beer looks at how Intel Corporation worked with Wuhan University and the China Foundation for Cultural Heritage Conservation to use drones to assess damaged areas of the Great Wall of China.
In a pamphlet for the Corrs Chambers Westgarth law firm, Jodie Burger and Eddie Scuderi write that drone regulations in Australia don't necessarily go far enough to protect privacy. (PDF)
At the BBC, Chris Baraniuk writes that crop-spraying drones are aiding sugar cane farmers in El Salvador.
Photographer Lee Germeroth used a drone equipped with a large flash to create striking aerial portraits at sunset. (PetaPixel)
For updates, news, and commentary, follow us on Twitter.
[includeme file="tools/sympa/drones_sub.php"]