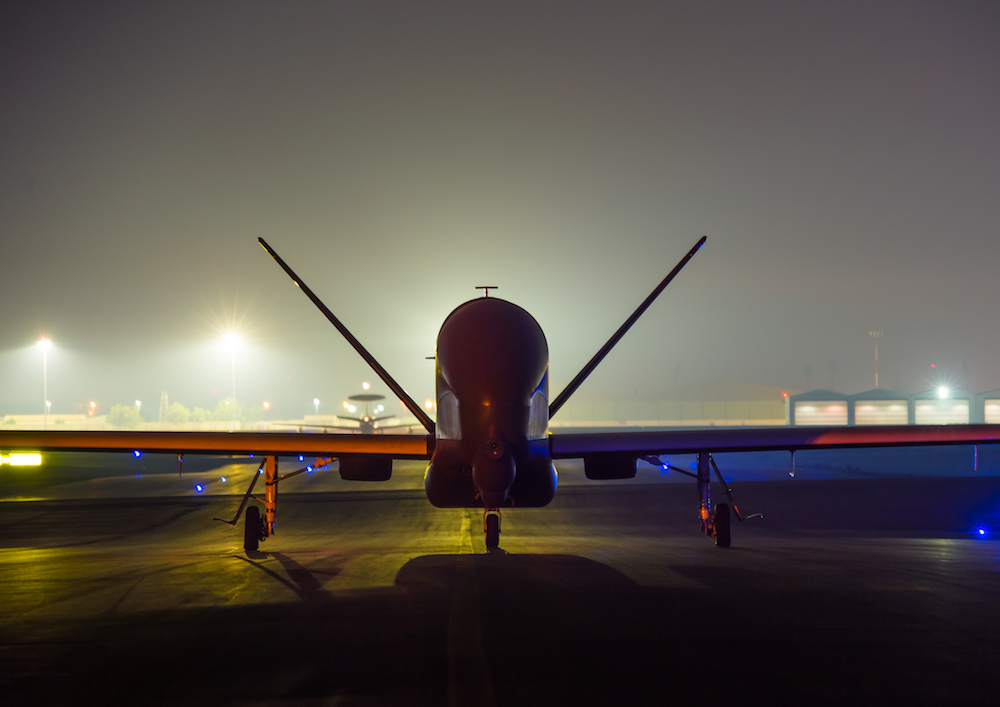 March 27, 2017 – April 2, 2017
If you would like to receive the Weekly Roundup in your inbox, please subscribe at the bottom of the page.
Local and State Drone Laws
The growing trend of cities and states adopting local drone regulations in the U.S. is seen as a major potential challenge to the federal government's efforts to widely integrate drones into the national airspace system. In a new report, the first in a three-part series on the landscape of local drone use, we identify over 130 U.S. cities–which are together home to over 30 million people–that have adopted local drone laws, many of which may contravene federal authority and could result in legal challenges that test standing notions of who owns the air.
News
A U.S. drone strike in Yemen reportedly killed four suspected members of al-Qaeda. The strike targeted a vehicle in Abyan province. (Reuters)
A second U.S. drone strike in Yemen reportedly killed three suspected members of al-Qaeda. The strike targeted a house in Abyan province where a local commander of al-Qaeda is believed to have been located. (Reuters)
More than 770,000 drones have been registered with the U.S. Federal Aviation Administration. In a speech at the second annual FAA Unmanned Aircraft Systems Symposium, FAA administrator Michael Huerta said that over 100,000 drones have been registered in the past month alone. (CNN)
The FAA announced that it expects to implement a system that will automate approvals for drone operations in controlled airspace by the end of 2017. According to FAA officials speaking at the FAA Unmanned Aircraft Systems Symposium, the Low Altitude Authorization and Notification Capability will be based on pre-approved flight zones. (AIN Online)
A lawsuit filed in a federal court in Los Angeles alleges that an Indiegogo-crowdfunded campaign has delivered "worthless" drones. The OnagoFly F115 palm-sized drones are made by China's Shenzen Sunshine Technology and Californian firm Acumen Robot Intelligence. (ArsTechnica)
Aviation safety investigators in the U.K. found that there were three close encounters between drones and manned aircraft within the span of three weeks at London's Heathrow Airport last year. The Airprox Board reported that one incident involved a drone flying within 100 feet of a commercial airliner. (Associated Press)
The Wall Street Journal reports that NATO will invest $1.85 billion in additional satellite bandwidth in order to accommodate its new fleet of RQ-4 Global Hawk drones. NATO is acquiring five Global Hawks, the first of which is expected to arrive in Italy within a year.
Commentary, Analysis, and Art
In a lecture at the Mitchell Institute, the head of the Pentagon's Strategic Capabilities Office predicted that swarms of intelligent systems will dominate future conflicts. (Breaking Defense)
At Popular Science, Jeffrey Lin and P.W. Singer examine the different weapons China is fielding to counter drones.
In Proceedings Magazine, Cdr. Jeremy Vaughn considers the threat posed to maritime forces by drones.
At DefenseNews, Valerie Insinna writes that U.S. Air Force Predator and Reaper drones are assuming more close-in air support roles in the campaign against ISIL.  
In an interview with DefenseNews, Col. Ross Anderson discussed the role of U.S. Air Force reservists in drone operations.
At Fortune, Jonathan Vanian studies our latest report on local drone laws and considers how drone operators could be fined or sentenced to jail time for operations that are legal by FAA standards.
At C4ISRNet, Adam Stone looks at how large underwater drones will shape the future of undersea warfare.  
A Remote Control briefing paper argues that the U.K. should improve transparency surrounding targeted killings.
At the Guardian, Spencer Ackerman speaks with a Yemeni family that is afraid they may be targeted by U.S. drones.
Yale University's WeRobot 2017 conference featured lectures on regulating drones, machine learning, and automation.  
At the National Interest, Dan Goure argues that the evolving security environment will require more intelligence-gathering platforms.
A report by the Korea Institute for National Unification, a think tank funded by the South Korean government, estimates that North Korea has around 1,000 drones. (Yonhap News)
In a War College podcast episode at Reuters, Ben Kesling discusses the role that ISIS drones play in the battle for Mosul. (Soundcloud)
The U.S. Marine Corps released the "2017 Marine Aviation Plan," which includes a chapter on future plans for unmanned aircraft systems. (PDF)
Hours after accepting Metadata+, an iPhone app that tracks drone strikes, Apple again rejected the app. (Fader)
Know Your Drone
Researchers at Cornell University's Laboratory for Intelligent Systems and Controls are using the Ms. Pac-Man computer game to train AI that could be used on autonomous drones. (The New Yorker)
Consumer drone maker DJI has proposed an electronic identification system for small drones that could help law enforcement track and identify drone users who violate airspace regulations. (Fox News)
California startup Natilus is set to begin testing a scale prototype of its planned freight drones this summer. (Fast Company)
Airspace firms Patria and Schiebel are integrating the Compact Airborne Networking Data Link, which allows drones to team with manned aircraft, into the Camcopter S-100 surveillance and reconnaissance drone. (IHS Jane's 360)
The Israeli Air Force has equipped its Eitam airborne early warning aircraft with a sensor specifically intended for identifying rogue drones. (FlightGlobal)
Belarus-based defense firm AGAT Control Systems unveiled the Berkut-1E, a small surveillance and reconnaissance drone. (IHS Jane's 360)
Car maker AM General and the U.S. Tank Automotive Research Development and Engineering Center are developing an autonomous ground vehicle based on the MV-1 accessible transport van. (Unmanned Systems Technology)
Meanwhile, the U.S. Army is looking to possibly convert a number of its armored personnel carriers into unmanned ground vehicles. (IHS Jane's 360)
Maritime drone maker Riptide unveiled two new small unmanned undersea vehicles. (Maritime Technology News)
Defense firm Northrop Grumman is testing a collision avoidance system for drones aboard its Firebird optionally manned demonstrator aircraft. (FlightGlobal)
The U.S. Army is planning to release a Request for Information for a new small robot system for ground units. (IHS Jane's 360)
Italian defense firm Leonardo is developing a long-endurance surveillance and reconnaissance drone named the Falco 48. (FlightGlobal)
French startup Airvada unveiled the DIODON family of inflatable multirotor drones. (Shephard Media)
The U.S. Coast Guard is exploring the possibility of deploying airborne intelligence and surveillance drones aboard its Legend-class National Security Cutters. (USNI)
Israeli defense firm Elbit Systems has completed operational testing of its Seagull unmanned surface vessel. (Defense News)
NASA's Langley Research Center is developing unmanned aircraft to explore the surface of Mars. (New Atlas)
Breaking Defense looks at the many different unmanned systems that will be put to the test in an upcoming U.S. Marine Corps wargame.
French startup Drone Hive unveiled an automated landing, takeoff and recharging station for small drones. (Shephard Media)
Researchers at Ben-Gurion University and RSA Security have demonstrated how a drone mounted with a laser could be used to hack into electronic devices. (Motherboard)
Drones at Work
Drone delivery firm Matternet has been granted approval to fly autonomous drone delivery routes in Switzerland. Swiss Post plans to use the drones to ferry blood samples between two hospitals. (TechCrunch)
The Australian Red Cross and WeRobotics are partnering to use drones for survey and delivery operations in areas that have been devastated by recent floods. (ABS News)
The Chula Vista Police Department in California is preparing to deploy drones for a range of operations. (NBC San Diego)
The sheriff's offices of Columbia and Greene counties in New York State are both preparing to deploy drones. (Register-Star)
The Connecticut state legislature is considering a bill that would legalize armed police drones. (Quartz)
The U.S. Air Force's classified X-37B unmanned spacecraft has been in orbit for over 675 days, a new record for the program. (Space.com)
Buffalo, New York police tracked down the 19-year-old Rochester man who crashed a consumer drone through a window at Buffalo City Hall. (TWC News)
Officials in California have received several reports of hobby drones being flown near seal populations at the Monterey Bay National Marine Sanctuary. (Huffington Post)
Drone maker Airobotics has been granted approval by the Civil Aviation Authority of Israel to fly drones autonomously. (TechCrunch)
The Royal Canadian Mounted Police seized a drone that was involved in a close encounter with a medvac helicopter. (CBC)
The U.K. Airprox Board released an investigation of an incident last year in which a drone came within 100 feet of a medical helicopter that is often piloted by Prince William. (Fox News)
The Australian military crashed a Schiebel S-100 Camcopter during a training mission over the Beecroft Weapons Range. (South Coast Register)
Domino's will partner with Starship Technologies to use robots to deliver pizza in Hamburg, Germany. (Recode)
A Brazilian studio is using a DJI Phantom drone instead of a traditional steadicam to create smooth, steady video shots for its films. (Popular Mechanics)
The Spanish Navy is using ScanEagle surveillance drones to monitor the Somali coast for pirate activity. (EU Navfor)
Finnish startup Aeromon has developed a drone-mounted system to detect a range of different industrial emissions. (Environmental Technology)
Industry Intel
The U.S. Air Force awarded General Atomics Aeronautical Systems a $98 million contract to develop and test advanced capabilities for the MQ-9 Reaper. (DoD)
The U.S. Air Force awarded General Atomics Aeronautical Systems a $39.5 million contract modification for block 30 ground control systems. (DoD)
The U.S. Air Force awarded General Atomics Aeronautical Systems a $39.1 million foreign military sales contract modification for contractor logistics support for the U.K.'s MQ-9 Reaper. (DoD)
The U.S. Navy awarded Seemann Composites a $9.1 million contract for "materials and manufacturing technologies for unmanned underwater vehicles." (DoD)
The U.S. Navy awarded Phoenix International Holdings a $14.5 million contract for research on unmanned underwater vehicle sensors and technology. (DoD)
Israel Aerospace Industries will supply an unidentified country in South America with small unmanned aircraft systems for border security. (UPI)
Norway awarded Kongsberg Maritime an $18.3 million contract for unmanned underwater vehicles for mine countermeasures. (IHS Jane's 360)
Israel's Innocon will supply a law enforcement agency in India with the Micro Falcon unmanned air vehicle. (FlightGlobal)
IRIS Group was awarded a contract to use drones to inspect power lines in Norway. (Press Release)
For updates, news, and commentary, follow us on Twitter.
[includeme file="tools/sympa/drones_sub.php"]