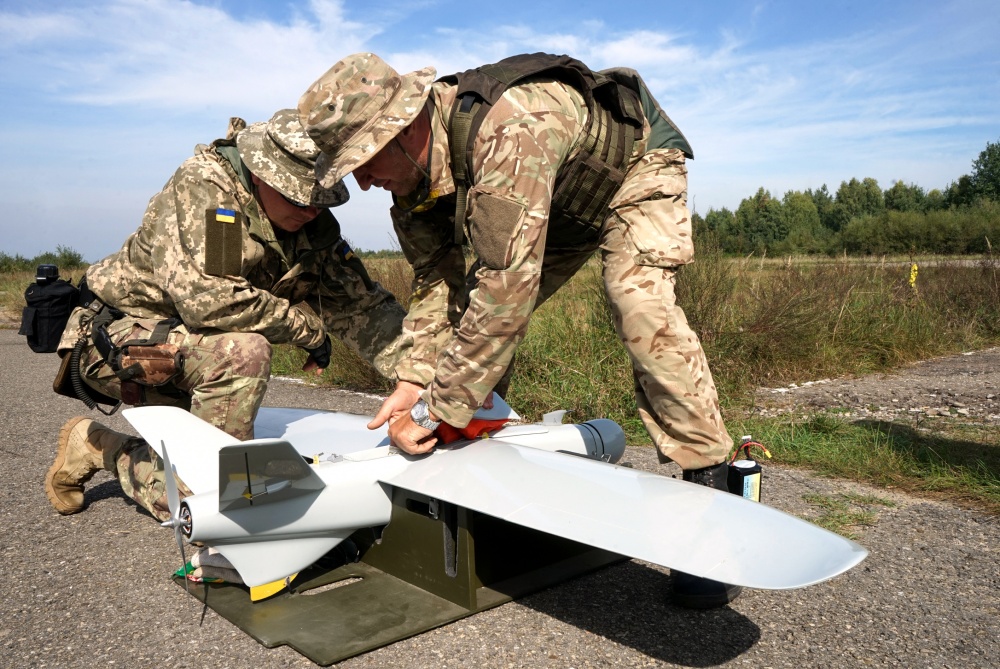 September 10, 2018 – September 16, 2018
If you would like to receive the Weekly Roundup in your inbox, please subscribe at the bottom of the page.
Top Stories
The European Parliament passed a resolution calling for a preemptive ban on lethal autonomous weapons. The resolution requests that the European Union member states establish a common position against the technology before a United Nations meeting on the issue in November. (Reuters)
A U.S. MQ-4C Triton surveillance drone was damaged during a gear-up landing at Naval Base Ventura County in California following an unspecified technical malfunction. The Triton, which is assigned to the Navy's Unmanned Patrol Squadron 19, is based at Point Mugu for test and evaluation. (Navy Times)
The City of Reno, Nevada and the drone firm Flirtey successfully completed deliveries of automated external defibrillators for cardiac arrest patients. The test was conducted by a single drone operator in coordination with the U.S. Federal Aviation Administration as part of the FAA's UAS Integration Pilot Program. (Reno Gazette Journal)
The U.S. government intends to introduce modifications to the Missile Technology Control Regime that would make it easier to export military drones. C4ISRNET reported that the U.S. State Department is preparing to present the changes, which have not yet been disclosed, at a meeting in November.
Impossible Aerospace, a U.S. startup, has claimed that it has achieved a significant increase in the endurance of a quadcopter drone by redesigning the allocation of battery power within the aircraft. The company also announced that it has raised $9.4 million in a venture funding round supported in part by aerospace giant Airbus. (The Verge)
At least 53 teams of drone operators are preparing to respond to the damage to power infrastructure caused by Hurricane Florence. The drones will be used to inspect malfunctioning equipment in areas that could be dangerous for utility workers. Drones were used in a similar way after Hurricane Harvey last year. (Bloomberg)
Know Your Drone
A team from Delft University of Technology is developing a winged micro drone that maneuvers like a fruit fly. (Science Daily)
Russian firm Avtomatika Concern, a subsidiary of Rostec, unveiled the Pishal, a counter-drone jamming rifle for civilian and military markets. (The Firearm Blog)
At the University of Maryland, researchers are developing a small drone that can autonomously navigate indoor environments with a single onboard camera. (IEEE Spectrum)
U.S. firm Bell has signed an agreement with NASA to demonstrate its Autonomous Pod Transport 70 drone in the U.S. airspace system in 2020. (Flight Global)
The U.S. Army has issued design and performance specifications for a small vertical take-off and landing drone under its Short-Range Reconnaissance Program. (Jane's)
South Korean defense firm Hanwha unveiled a prototype for an armed unmanned ground vehicle. (Jane's)
France's Direction Générale de l'Armement has launched a study to explore the viability of integrating unmanned ground and air vehicles with the Scorpion combat system. (Jane's)
In a demonstration at the U.S. Navy's Advanced Naval Technology exercise, an MQ-8C Fire Scout helicopter drone operated in a manned-unmanned teaming counter-mine operation with a crewed ship and a submarine. (FlightGlobal)
French drone marker Parrot unveiled two drones for commercial video and mapping operations: the senseFly eBee X and the ANAFI Work. (Unmanned Systems Technology)
Drones at Work
A drone crashed in downtown San Francisco while inspecting a cracked window on a high-rise building. (CBS SF Bay Area)
U.S. utility Xcel Energy began flying drones beyond line of sight for power line inspections. (Power Magazine)
The Zambian Air Force has acquired the Elbit Systems Hermes 450 tactical drone. The acquisition was first announced by the Zambian Air Force in December 2017. (Jane's)
Pro-government Yemeni forces discovered what appears to be an unmanned boat laden with explosives in the Red Sea. (Jane's)
A Hellenic Army Sagem Sperwer surveillance drone reportedly crashed during a training exercise near the Greek city of Komotini. (ekathimerini.com)
California Governor Jerry Brown has signed into law a bill outlawing the use of drones over the state's correctional facilities. (StateScoop)
Images from the Vostok 2018 military exercises appear to show Russian soldiers operating the REX-1, a counter-drone jamming rifle developed by a subsidiary of the Kalashnikov Group. (Jane's)
Industry Intel
The U.S. Army awarded General Atomics Aeronautical Systems a $15.8 million contract for spare parts and ground equipment for the MQ-1C Gray Eagle. (DoD)
The U.S. Army awarded AeroVironment an $8.9 million contract for RQ-20B Puma AE II systems and support for the government of Estonia. (DoD)
The U.S. Air Force awarded General Atomics Aeronautical Systems a $92.2 million contract for MQ-9 Reaper Block 30 Ground Control Station retrofits. (DoD)
The NATO Support and Procurement Agency awarded AeroVironment a $5.96 million contract for the RQ-11 Raven for the Portuguese Army. (Press Release)
Israel Aerospace Industries has partnered with Effective Space to build the Space Drone, an unmanned spacecraft that will rendezvous with satellite systems. (Jane's)
Commentary, Analysis, and Art
At War is Boring, David Axe writes that Boeing's design for the MQ-25 Stingray drone has roots in a Cold War-era stealth plane program.
At Aviation Week, Lee Hudson writes that the U.S. Marine Corps is debating whether to acquire its own fleet of MQ-9 Reapers.
At Drone Wars UK, Chris Cole looks at how Brexit could affect the future of Anglo-French efforts to build next-generation drones.
At Bloomberg, Nathaniel Bullard and Claire Curry look at why energy companies are turning to drones for inspections.
At Wired, Jack Stewart considers the different ways that drone pilots are preparing to help with recovery efforts in the aftermath of Hurricane Florence.
Also at Wired, Eric Niiler looks at how the Skidaway Institute of Oceanography used unmanned underwater vehicles to track the progress of the hurricane.
At The Cove, Benjamin Grubb reflects on how infantry platoons used mini-drones during a recent Australian Army exercise.
For updates, news, and commentary, follow us on Twitter.
[includeme file="tools/sympa/drones_sub.php"]